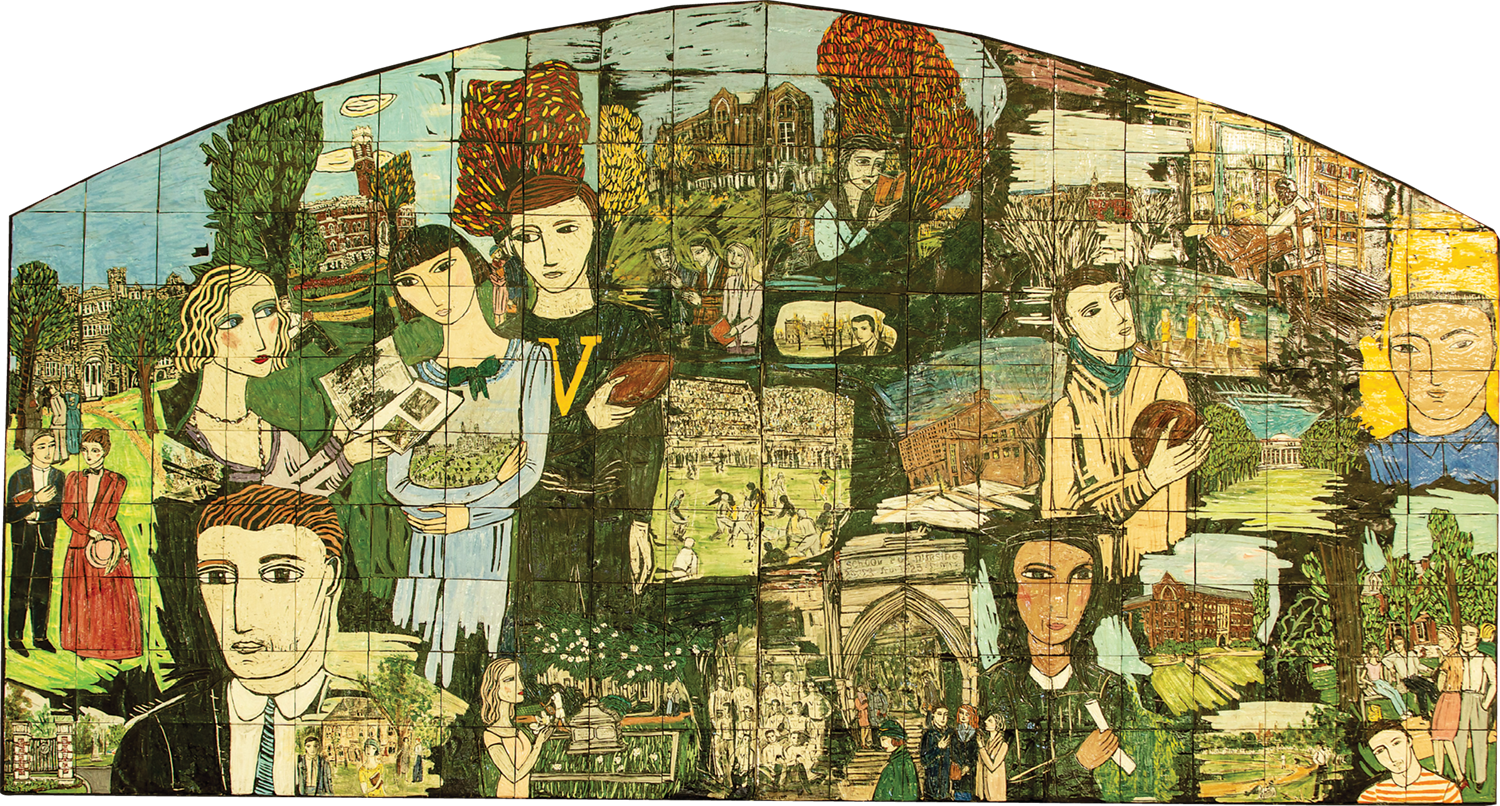 Come sun, rain or snow, one of the best places on Vanderbilt's campus to find shelter is under Calhoun Hall's stone portico, facing out toward the law and business schools. This refuge is also home to a mural of campus life, Seasonal Cycles, created in ceramic tiles by Nashville native Polly Cook. Installed in 1993, it depicts all seasons on campus, beginning with summer on the left and ending with spring on the right. It traces Vanderbilt's history, starting with a turn-of-the-20th-century couple in front of the Main Building—the double-towered predecessor of Kirkland Hall—and finishes with a couple in modern dress strolling the campus.
Cook, whose favorite medium is clay, was commissioned by G. Judson Newbern III, now retired as deputy vice chancellor for facilities and environmental affairs, to create the approximately 8-by-16-foot mural.
"I felt that with Polly's talent and ability to capture imagery with such energy and color in her ceramic work, Vanderbilt should have one of her pieces in its collection," Newbern says. "That open-air porch at Calhoun seemed a great place to animate with a colorful mural. Ceramics was selected because glazed ceramic material holds up longer with more durability (and wash-ability from graffiti) than does paint.
"Polly had never done anything of that scale, but we both liked the cyclical and timeless nature of students moving through these spaces over generations," he says. "We collaborated on a concept that spoke to a campus theme."
Newbern helped Cook get access to archival photographs of campus and sports events that define the academic year. "I can't remember each detail," she says from her home in Texas, "but I tried to fit sports within the seasons."
Known for its narrative style and German Expressionist influences, Cook's work often explores relationships and love. Was that a subtheme within the work?
"I wasn't trying to emphasize romance, but, of course, dating is definitely part of college life. And so is friendship, those you always remember and keep up with years later," she says. "I love nostalgic things and honoring the past, so I hoped to get a little of that in there."
To see more of Polly Cook's work, visit vu.edu/polly-cook
To see more Vanderbilt campus sculpture, visit vu.edu/sculptures.