Media Inquiries
Latest Stories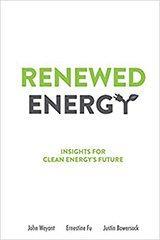 Renewed Energy: Insights for Clean Energy's Future (2018, Kauffman Fellows) by John Weyant, Ernestine Fu and Justin Bowersock, BA'94
Renewed Energy sheds light on the recent history of clean energy between the 2009 recession and 2012, providing firsthand perspectives from the industry's leading policy makers, technology investors and industry experts. These include Secretary of Energy Steven Chu, Secretary of Defense William Perry, European Commission Director of International and Climate Strategy Artur Runge-Metzger, and investors Tom Baruch and Susan Preston among many others. Also included are insights into and accounts of the Obama administration's efforts, venture capital investments in energy companies, and more—all synthesized in a way that leads readers to contemplate a cleaner, more powerful future.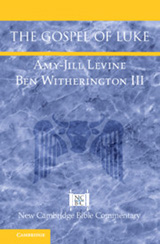 The Gospel of Luke, from the series New Cambridge Bible Commentary (2018, Cambridge University Press) by Amy-Jill Levine, University Professor of New Testament and Jewish Studies, and Ben Witherington III
This volume offers a comprehensive overview of one of the four New Testament gospels and brings a unique approach to the genre of Bible commentary. While featuring distinct Jewish and Christian voices in respectful conversation, Levine and Witherington explore why scholars disagree on questions of history, literature and theology. They show how Luke has been used to create both tragedy and hope, as well as to promote sexism, anti-Semitism and religious intolerance, thereby raising important questions regarding ethically responsible interpretation.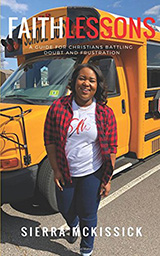 Faith Lessons: A Guide for Christians Battling Doubt and Frustraton (2018, independently published) by Sierra J. McKissick, MDiv'15, MA'17
In this book and accompanying workbook, McKissick talks about faith, the church, Christianity and the struggles many have being faithful in a way that keeps the conversation funny and lighthearted while asking readers to dig into their innermost thoughts, desires and shortcomings. Through 10 lessons, McKissick takes the reader on a journey of self-reflection while also sharing her testimony and how she continues to struggle. Described as a toolkit to help readers journey through their faith walk, it contains scriptures, prayers, life lessons and faith tests.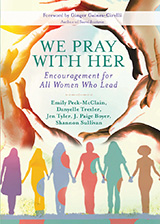 We Pray with Her: Encouragement for All Women Who Lead (2018, Abingdon) edited by Emily Peck-McClain, Danyelle Trexler, Jen Tyler, J. Paige Boyer and Shannon Sullivan
This devotional collects 100 entries written by the women of We Pray With Her, a grassroots movement turned online collective of women faith leaders. It explores themes such as call, vocation, persistence, resistance and struggle, and targets those who look for personal inspiration, those in a supportive role to a leader, aspiring leaders, or those who want to support their sisters in Christ. By raising each other up in prayer, the collective believes readers will in turn be inspired in their own efforts, grow in faith, be understanding of shortfalls, and celebrate successes along with other women. Contributors include Blair Tolbert, MDiv'10; Angela Flanagan, MDiv'11; Katie Pearce, MDiv'11; Sarah Karber, MDiv'12; Sara McManus, MDiv'12; and Laura Rossbert, MDiv'13.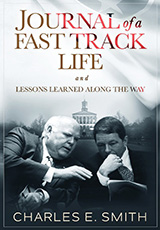 Journal of a Fast Track Life and Lessons Learned Along the Way (2018, Charbar Press) by Charles E. Smith, MA'66, PhD'76
Charles Smith's life story is that of a small-town kid whose first job was editor of the hometown newspaper he once delivered as an 8-year-old. Forty-two years later he found himself in Washington, D.C., serving in President George W. Bush's administration as executive director of the Nation's Report Card, a federal initiative to improve education. In between, he served as editor of a daily newspaper, chancellor of two University of Tennessee campuses, Tennessee Commissioner of Education, and chancellor of the Tennessee Board of Regents. While this book chronicles Smith's personal odyssey, the lessons embedded in his story have broad application to readers seeking a pathway to success in any career.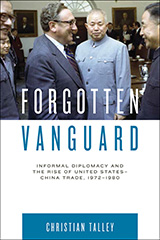 Forgotten Vanguard: Informal Diplomacy and the Rise of United States–China Trade, 1972–1980 (2018, Notre Dame Press) by Christian Talley, BA'16
Diplomatic historians have carefully documented the formal and governmental intrigues of Nixon, Kissinger, Mao and Zhou Enlai. As this book shows, a vigorous reconstruction of bilateral ties was unfolding simultaneously at the level of informal diplomacy, especially in the realm of U.S.-China trade. Central to understanding the renewal of bilateral commerce is the National Council for United States–China Trade, an organization that, although nongovernmental, was established in 1973 with Washington's encouragement and oversight. Using the council to historicize the entangling of the American and Chinese economies, Forgotten Vanguard not only reveals globalization's contingent path but also exposes the hidden importance of informal trade diplomacy in building the modern U.S.-China relationship.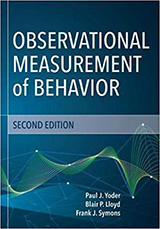 Observational Measurement of Behavior, 2nd edition (2018, Brookes) by Paul J. Yoder, professor of special education, Blair P. Lloyd, assistant professor of special education, and Frank J. Symons
For anyone preparing to be a researcher, this comprehensive volume introduces graduate students to key principles of observational measurement of behavior. Based on a course the authors taught at Vanderbilt and the University of Minnesota, this text delves deeply into a highly effective approach to observational measurement called systematic observation, detailing both its theoretical principles and recommended research methods and techniques.