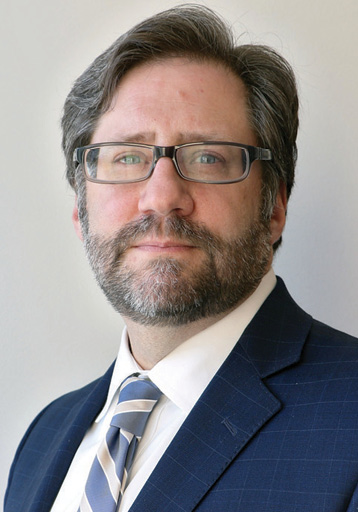 Jon Parrish Peede, BS'91, who was confirmed by the U.S. Senate in April as chairman of the National Endowment for the Humanities, has taken several paths in government service, all of them paved with words. "I discovered during my student days that what I loved were words on paper," says Peede, whose career in Washington has been dedicated to promoting history, learning and literature.
Prior to his confirmation, he was senior deputy chair of the NEH for a year, and he previously held leadership posts at the National Endowment for the Arts, where he was literature grants director.
"These are extraordinarily friendly and intellectually stimulating places to work," he says, "with very gifted colleagues."
Peede's road to government service involved several "pivots," as he terms them, but he's quick to say that it began with the education he received at Vanderbilt. "I don't know if I'd be sitting at the National Endowment for the Humanities if it weren't for Vanderbilt across two generations," he says.
His father, Dr. Robert L. Peede Sr., grew up the son of a steel-mill worker and, thanks to a scholarship, became a Vanderbilt-educated (BA'58) surgeon. His brother Robert Jr., known as Bobby, is a 1991 graduate of the Owen Graduate School of Management who currently serves as director of presidential advance for the Trump administration. Jon Peede's daughter, Somerset, extended the Vanderbilt legacy into a third generation when she entered the Blair School as a freshman this fall.
Peede himself entered college planning to follow his father's profession, though he credits Michael Kreyling and Vereen Bell, professors of English, emeriti, and Susan Ford Wiltshire, professor of classics, emerita, with nurturing his fascination with books. A Mississippi native, Peede earned a master's degree in Southern studies at the University of Mississippi before embarking on a varied career as a book editor, publisher and university communications director. His eight-year NEA stint ended in 2011, and he served as publisher of the prestigious literary journal Virginia Quarterly Review before coming on board at the NEH.
The common thread in all his endeavors, as he sees it, is the reverence for storytelling that he learned at Vanderbilt. "Whether funding poets when I was at the NEA or preserving endangered languages and cultural artifacts at the NEH, I was always prepared because of my Vanderbilt professors."
The connection has come full circle. NEH grants currently fund several Vanderbilt faculty projects, including research on the Social Security number by Associate Professor of History and American Studies Sarah Igo and work at the Slave Societies Digital Archive (hosted at the Heard Libraries) by Gertrude Conaway Vanderbilt Professor of History Jane Landers. In addition, Peede will deliver the 2018–19 Harry C. Howard Jr. Lecture on campus April 2, 2019.
Peede clearly relishes the NEH's work of enabling scholarship and storytelling, and he wants to see today's students embrace the same passion for the arts and humanities he found at Vanderbilt.
Recalling his own days of discovery, he urges the next generation to "first give in to delight and curiosity.
"They're so focused on getting the perfect grade and following all the rules," he says, "that I sometimes worry they're missing the sheer love of learning."
—Maria Browning