Briana Francois,
BA
The only thing Briana Francois enjoys more than watching TV and digital content is creating it.
Francois grew up in Woodstock, Georgia, a "TV kid" with an appreciation for the medium's ability to transcend viewers' personal experiences and expectations.
"I'm fascinated by the idea that a lot of people can watch the same thing and have different interpretations of it, but ultimately still be entertained by it," she says.
At Vanderbilt her double majors in psychology and cinema and media arts allowed her to examine human behavior and represent it authentically on film. "In cinema and media arts, we made various short films and videos. It's a lot of group-based work, so I would be directing on one project and working someone's camera on another."
As a student Francois worked as an intern for Nashville Public Television. She also was hired as the Vanderbilt Career Center's first-ever media manager, creating a podcast called Wandering Off where she interviews notable alumni about the circuitous paths they've taken to find success.
For her senior project Francois created a three-episode web series loosely based on her and her friends' experiences as college students. She wrote and directed the series and shot scenes on and around campus, citing actor-writer-producers Mindy Kaling and Issa Rae as inspirations for successfully mining their personal lives to create distinctive shows.
After a stint with Teach for America since graduation, Francois hopes to participate in the NBC page program, which would take her to Los Angeles and hopefully a career in the television industry.
—KARA FURLONG
---
Christian Motyczka,
BS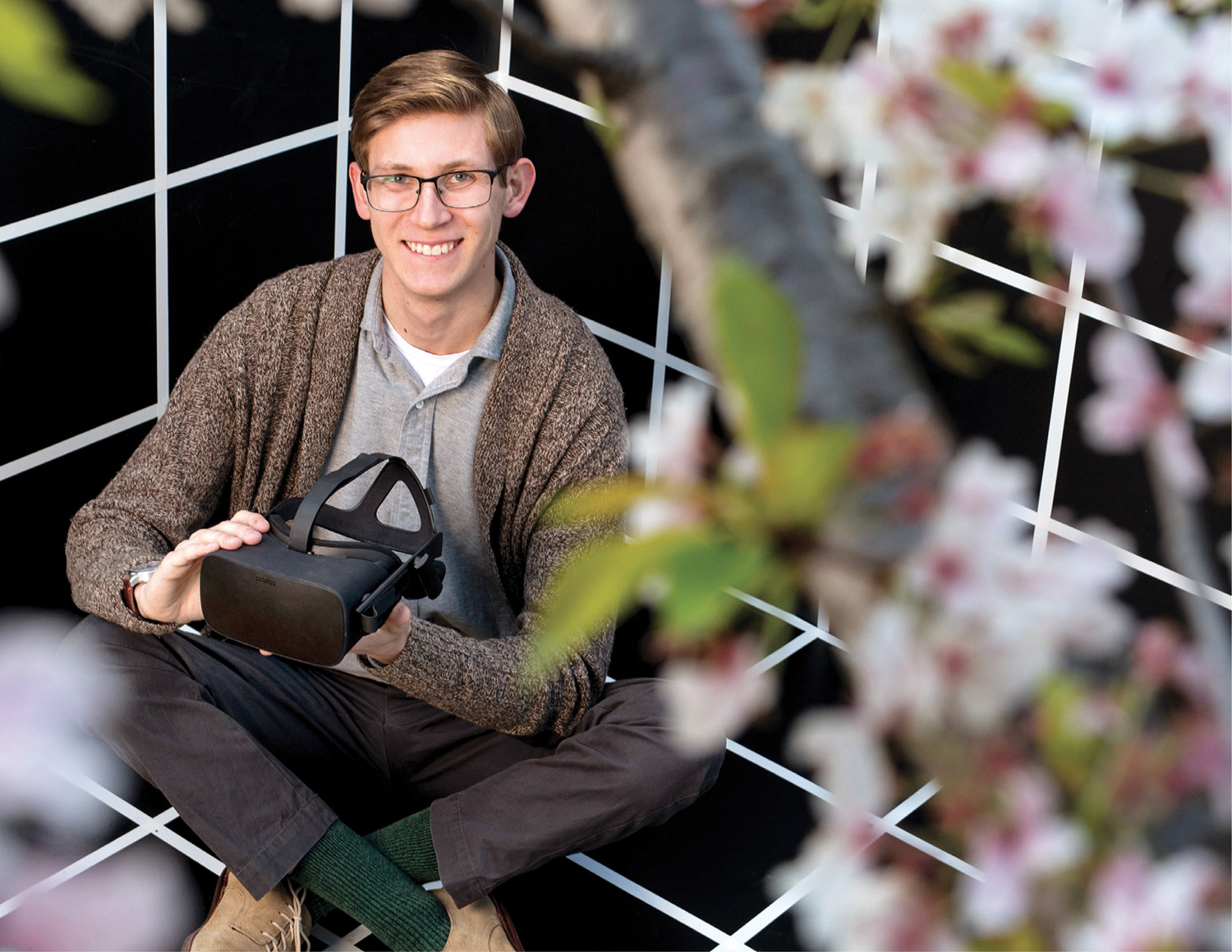 When it came time to apply to college, Christian Motyczka did his research. He knew Vanderbilt University was the place for him.
"I was looking for an Ivy-ish experience without the Ivy ego," says Motyczka, a computer science major from Lumberton, New Jersey. "Everyone here has something they are passionate about. Everyone here is a well-rounded, holistic individual."
Motyczka found his passions in and out of the lab. He was one of two computer science undergraduates who developed a virtual reality program to help addicts stay clean. The program includes cloud-based scenes and music designed to help combat cravings. Separately, it involves a social component in which a therapist accompanies an addict into a "virtual bar" or other setting to develop clear boundaries around not using.
The work, through the Emotion and Anxiety Research Lab, or EARL, was part of a partnership between a Vanderbilt clinical psychology graduate student and a Nashville-based company with both residential and outpatient addiction treatment programs.
"To be able to build something, see it go into use, and now help people is very powerful to me," Motyczka says.
After Commencement he began working as a software developer at the Raleigh, North Carolina, offices of Optum, a technology, data analytics and management arm of UnitedHealth Group. He worked at UnitedHealth last summer in technology development.
"Part of the reason I was attracted to Vanderbilt is that every student accepted already was a student leader," he says. "In the time since, I found leadership doesn't derive from position or title. Leadership is an activity—it's an action."
—PAM COYLE
---
Logan Brown,
BS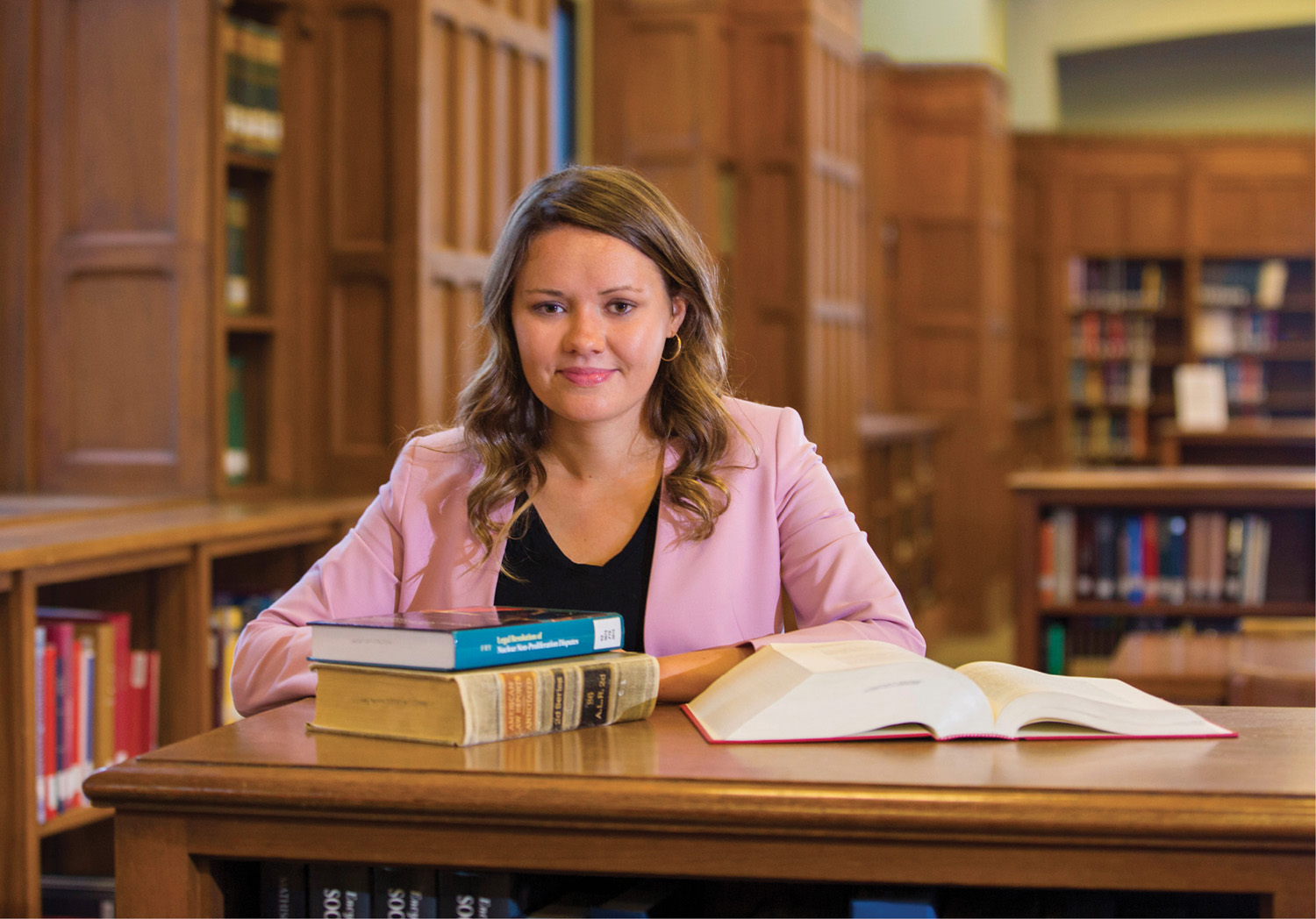 At age 12, Logan Brown decided she wanted to be a lawyer. Up to this point, the extent of her experience with the judicial system was attending civics class and watching lots of episodes of Law and Order. So the preteen pursued and landed an internship at the Douglas County district attorney's office in Lawrence, Kansas, giving her a front-row seat to the legal system at work.
"I spent a lot of time throughout middle and high school in a courtroom gallery watching hearings and sitting in on meetings with victims and their families," she says. "I saw how a person's life can be changed in an instant, and I wanted to be a part of helping victims of violence."
A Chancellor's Scholar, Brown chose Peabody College's human and organizational development major because of its diverse course offerings and internship opportunities. During the course of her Vanderbilt career, she spent a semester at East China Normal University in Shanghai, and another at the American University in Dubai as a William Jefferson Clinton Scholar. She also interned at the U.S. Department of Defense's Daniel K. Inouye Asia-Pacific Center for Security Studies in Honolulu, where she assisted in the instruction of counterterrorism courses to military officials.
Having recently earned a prestigious Marshall Scholarship, Brown is spending the next year pursuing a master's degree in terrorism, security and society at King's College London. Then she'll return to the States to attend law school.
"I'm so lucky," Brown says. "I have a great family, and along the way there have been so many people, including my professors at Vanderbilt, who have gone above and beyond to help me reach my aspirations."
—JOAN BRASHER
---
Yalun Feng,
BA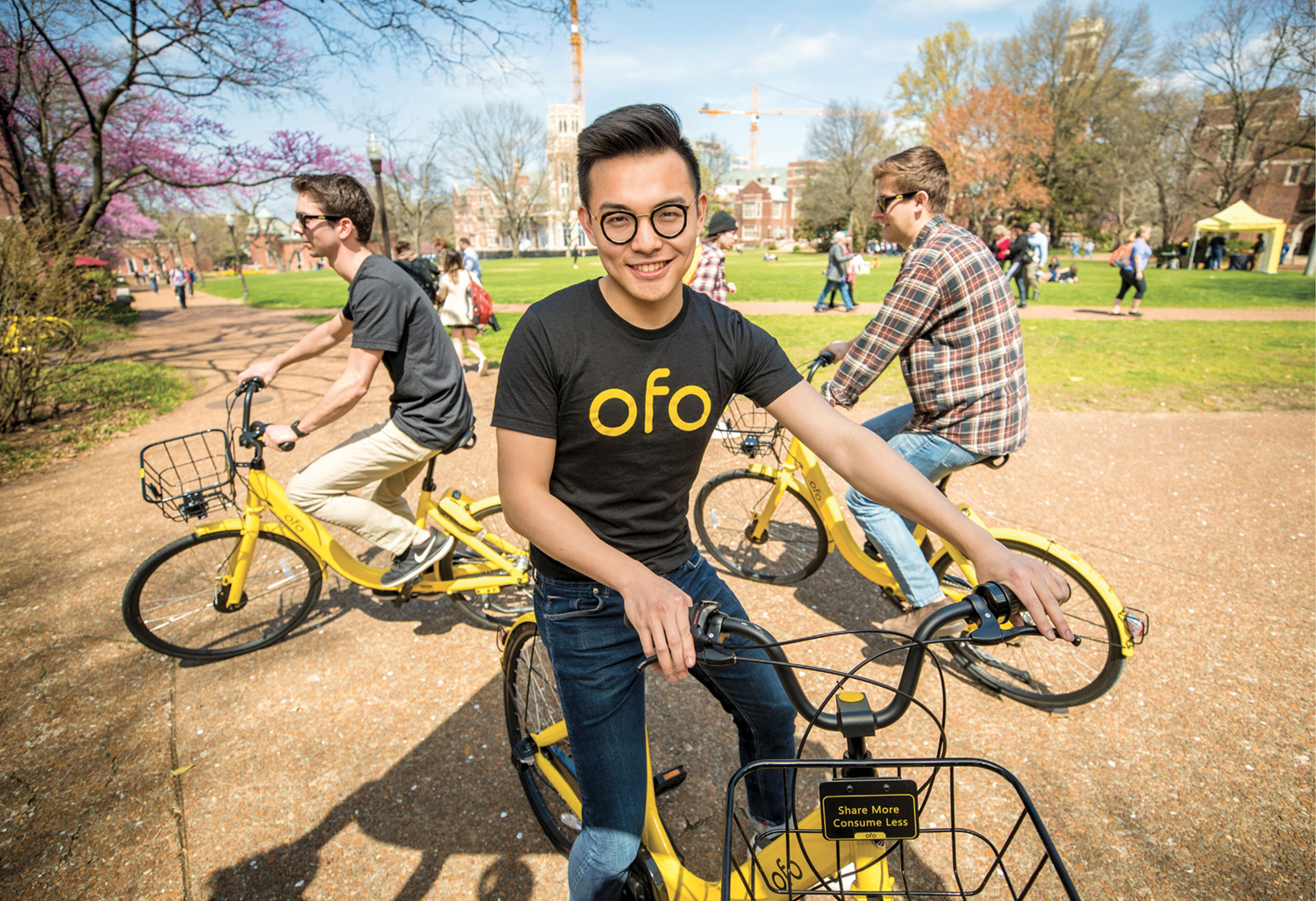 Yalun Feng has seen the toll that progress has taken on the environment in his hometown of Wuhan, China—a major transportation hub of more than 8 million people.
"I've been studying the environment because I see how pollution in my country affects people's everyday lives," says Feng, who double-majored in environmental sociology and political science. He wants to look beyond science—to social solutions and entrepreneurship—to help solve these problems.
As a student at a Climate Reality Project conference, Feng learned about a line of sustainable plates and bowls made of tree leaves and ultimately turned the concept into the Leaves Plates Co.
"The plates are completely biodegradable, no matter how you dispose of them, yet very strong," Feng explains. They are made by women in Nepal and India with the goal of helping the women gain economic independence.
The Leaves Plates Co. caught the attention of the Clinton Global Initiative, and Feng was invited to be one of five keynote speakers for the opening ceremony of the organization's 2017 university conference.
Feng has since focused on another green venture: partnering with Beijing-based ofo to bring its dockless bike-sharing program to Vanderbilt's campus.
Working with the Vanderbilt Innovation and Entrepreneurship Society, Feng proposed the idea to the university's Division of Administration last fall. In late March, 100 of the bright yellow ofo bikes were released on campus for a pilot program in collaboration with Vanderbilt's FutureVU initiative.
Feng is now considering graduate school and ultimately wants to return home to China.
"Vanderbilt definitely has shaped who I am today—as an immigrant, as an entrepreneur, as someone who is passionate about social change," he says.
—AMY WOLF
---
Sarah Robinson,
BMus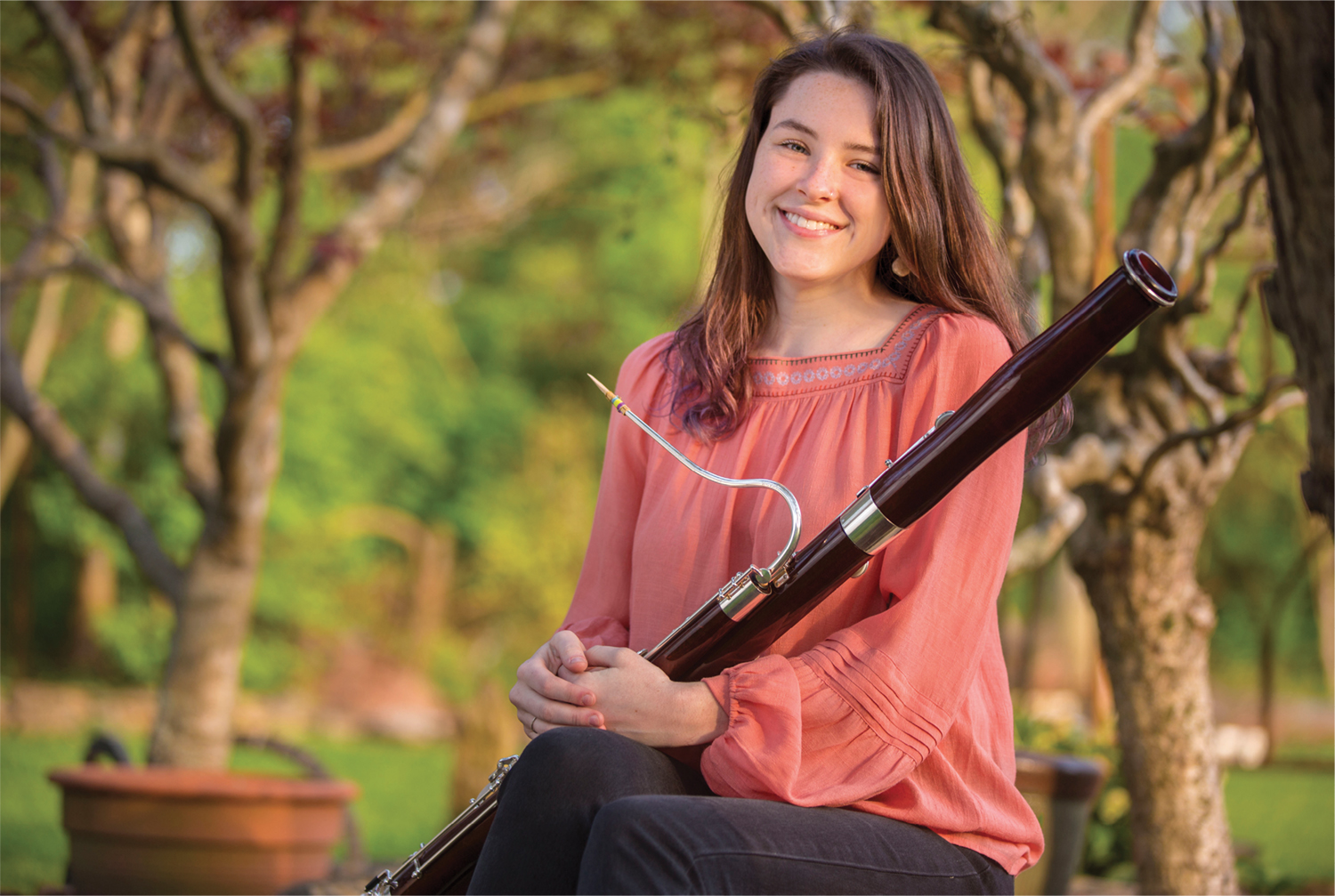 Despite playing the bassoon as a student at the Blair School of Music, Atlanta native Sarah Robinson knew she didn't want to play the instrument professionally. Instead, after dropping economics as a second major, she discovered that ethnomusicology could combine her love of languages and culture with music.
"I knew Vanderbilt would be a good place to try out other things," she says. "My parents tell people I'm a free spirit."
A summer with Pakistani roommates led her to the religious musical performance traditions of Sufism, which became the focus of her undergraduate thesis. Robinson got her first taste of fieldwork doing service work with women in Morocco through Vanderbilt's Office of Active Citizenship and Service as a Nichols Humanitarian Fund grant recipient.
"I taught [English]," Robinson says, "but had some free time, so I wanted to pursue my interest in Sufism while I was there."
Because of her interest in South Asian music, Robinson began studying Hindi-Urdu at Vanderbilt and received a Critical Language Scholarship to study Urdu this summer in Lucknow, Northern India, through the U.S. Department of State. She returns to Lucknow in the fall on a fellowship at the American Institute of Indian Studies. Robinson likens her facility with languages to the discipline of practicing an instrument.
Robinson also earned certification at Vanderbilt School of Nursing as a doula—someone who assists women through childbirth—and hopes to combine her language and ethnomusicology work with service while in India.
She sees her studies as a door to helping others understand different cultures. "It can open up people's perspectives on a lot
of the world, especially to understanding Muslim communities," she says. "If we could have constructive critical conversations, that would be something."
—BONNIE ARANT ERTELT, BS'81
---
Jalen Dansby,
BA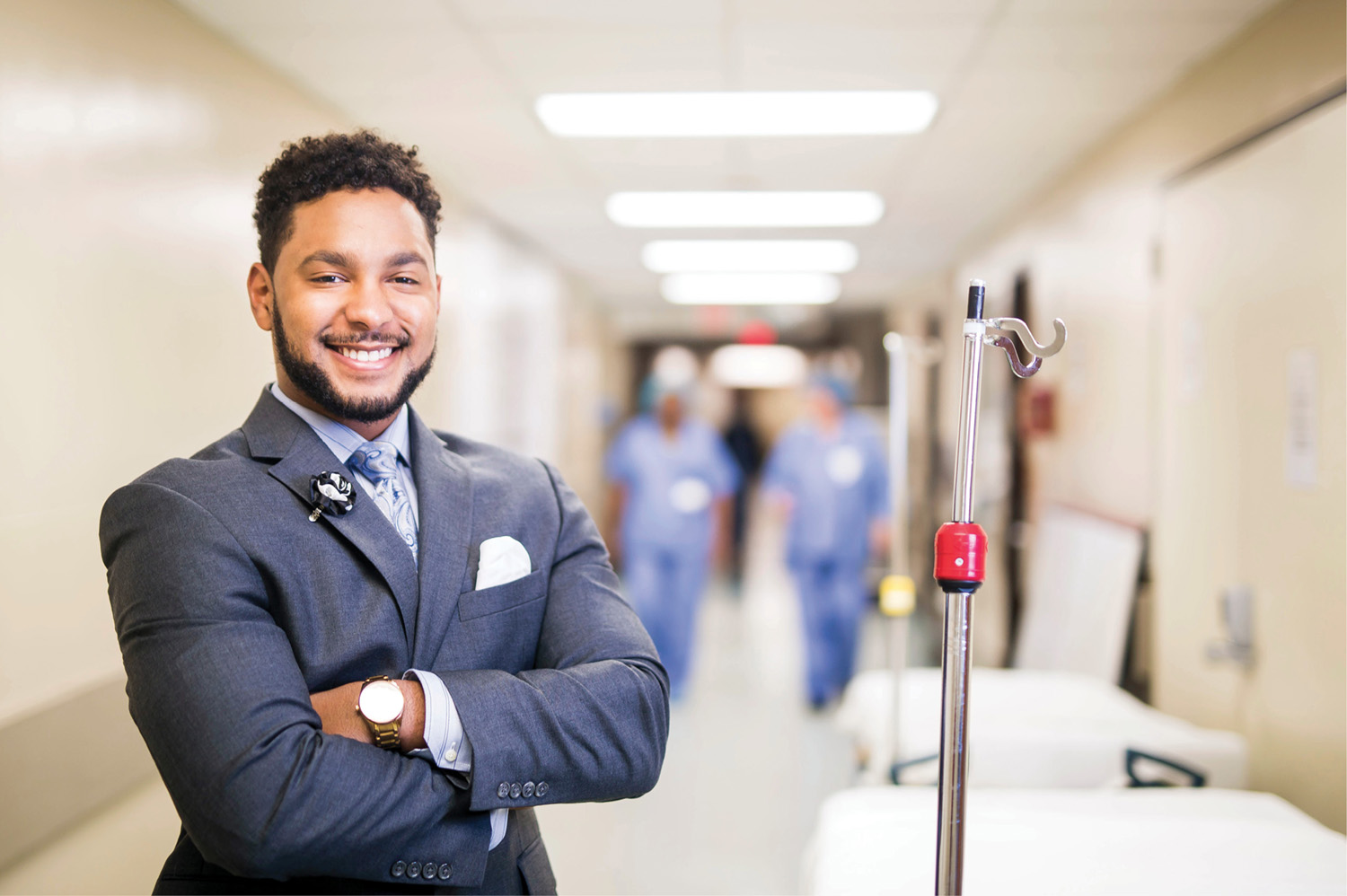 As Commencement approached in the spring, Jalen Dansby already had acceptance letters from 10 of the country's top medical schools, including Yale and Vanderbilt.
"It's really about more than just me," says Dansby, a medicine, health and society major from Houston. "It's about what I represent as a black male. I'm representing other people who may not have a voice or who may be unfairly labeled."
Last fall he participated in "The Growing Absence of Black Men in Medicine and Science: An American Crisis," a Washington, D.C., workshop sponsored by the National Academies of Sciences, Engineering and Medicine and the Cobb Institute of the National Medical Association. The program explored the decline in the number of black men entering medical fields.
The youngest of five high-achieving siblings, Dansby says his ultimate inspiration is his family.
"It starts with my mother, who's been a nurse practitioner in the Veterans Affairs hospital system for 25-plus years and is still working," he says. "I really want to set an example for others, just like my siblings and my parents have for me."
A Chancellor's Scholar, Dansby juggled an aggressive premed course load, multiple research internships and a campus job. He even played on the Commodores football team as a freshman, saying all of these experiences have made him a better leader and collaborator.
"One thing I've learned from football and from life at Vanderbilt is that everything really is a team effort," he says.
—AMY WOLF
---
Sami Chiang,
BS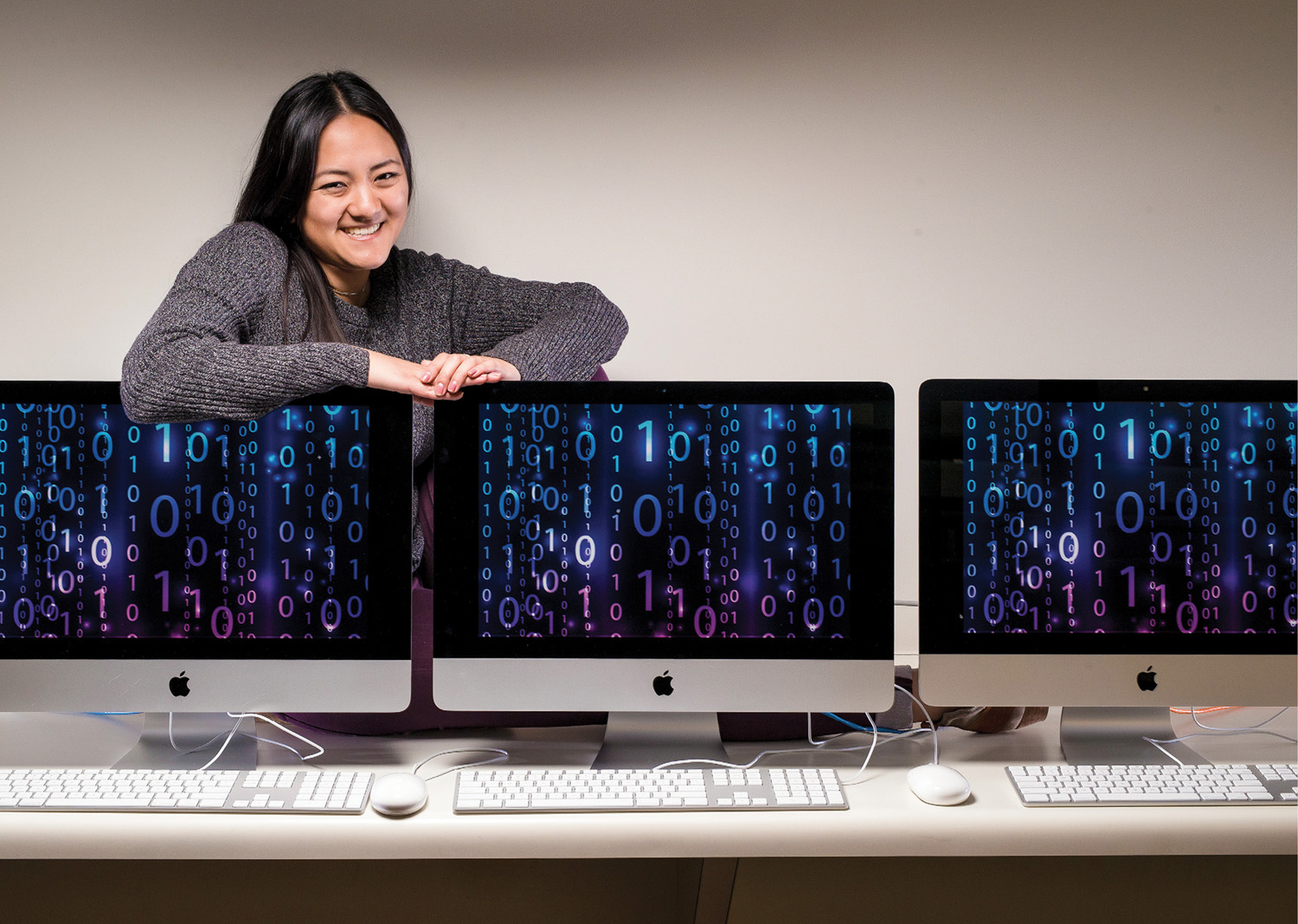 The daughter of a school administrator and an engineer, Sami Chiang started conducting experiments at a young age in her hometown of Berkeley, California.
"During the summers, my mom would have my brother and me do science experiments with household items and keep journals," she says. "We went on field trips to museums. It was like our own little summer school, but all we knew was that it was fun."
It's not surprising, then, that Chiang would choose to double-major in child studies and education, with a focus on learning in diverse contexts.
"I love kids and I love the classroom, but what's really fun is when you see kids learning in informal environments," she says. "Education extends so far beyond the classroom, and a lot of times it's in these kinds of settings that a student's mind opens up and they start to see what's possible."
With a computer science minor and a passion for coding, Chiang created the student organization Code Ignite. Two years on, Code Ignite partners with nearly a dozen low-income schools in Nashville, serving more than 250 elementary, middle and high school students and connecting more than 80 student volunteers. This year Chiang applied for and received grants from both Google igniteCS and the Nashville Predators NHL team, using those funds toward developing curriculum and materials to expand her program to include Lego WeDo robotics.
"In math and science, there is the misconception that not everyone can do it and it's all about solving for that one right answer," she says. "In my teaching career I hope to flip that model. When a student takes initiative and engages in critical thinking
and struggles productively, that is the most powerful kind of learning."
—JOAN BRASHER
---