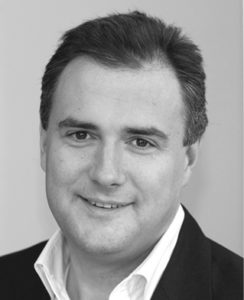 From a 65-acre dairy farm in Cooraclare, Ireland, Dominic McCarthy is courting clover.
He's the newest player in the booming international market for Irish whiskey, helping to found the Chapel Gate Irish Whiskey Co. in 2015 with wife Louise McGuane, the company's CEO, and a group of Vanderbilt alumni. The couple's first release, J.J. Corry The Gael, debuted in September 2017.
Chapel Gate is Ireland's first whiskey bonder in a century and has resurrected the lost art of bonding. "Our skill is choosing the barrel to age the whiskey in and the micro climate of the place where you store it. Eighty percent of the flavor comes from the barrel and the aging process.
"We take the best whiskey from across the country, mature it on the farm in our barrels, and then blend the liquids to create fantastic drinkable whiskey," McCarthy says. "Some of the barrels are ex-bourbon barrels from Tennessee and Kentucky, so it's a good reason to come back to Nashville."
He calls The Gael a "classic, full-flavored Irish blend." "I pick up honey and lime notes when I drink it," McCarthy says.
Chapel Gate Irish Whiskey Co. is located on the McGuane family farm, on the country's west coast, making "the most of the little coastal micro climate that will ultimately produce a whiskey that is utterly unique to County Clare," according to the company.
Investors include Vanderbilt alumni Patrick Malloy, BS'89; Jon Rickert, BA'90; and Ellen Sergent Rickert, BA'90.
Production of Irish whiskey has surged in the last decade, according to the Irish Food Board; in fact, whiskey volume is up 131 percent. McCarthy says his company plans to release more blends during the coming year.
Bottles of The Gael sell for $80 and are targeted to "premium" consumers, he notes. It's available in most U.S. states. McCarthy and his wife recently traveled to Lebanon and Russia in hopes of expanding their market.
After graduating from Vanderbilt with a degree in history, McCarthy held editorial jobs at Vogue and GQ for six years before joining his family's public relations business in his native England. There he met McGuane, who had a background in spirits.
"Chapel Gate is a nontech, old-school start-up and brings challenges you don't see running a developed, mature business," McCarthy says. "I really enjoy seeing my wife succeed in what is an incredibly tough, male-dominated environment."
After attending prep school in Pennsylvania, McCarthy enrolled at Vanderbilt, which he said helped give him ample business contacts. It was an inauspicious start, he recalls.
"On arriving for my first day, I had no dorm assignment, so they tried to put me in the foreign language dorm," McCarthy says. "I had a great four years, but I never picked up a Southern twang."
—ANDREW FAUGHT