Unleash your black and gold for College Colors Day, enter to win prizes
Aug. 28, 2018, 9:57 AM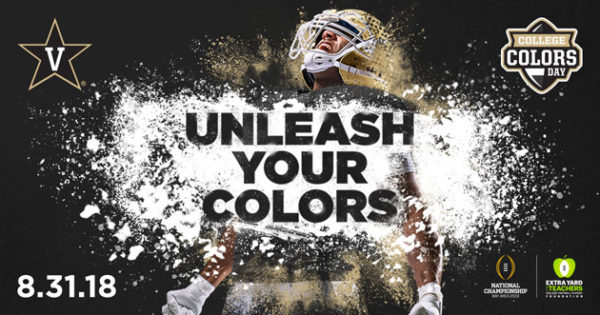 Vanderbilt will celebrate College Colors Day on Friday, Aug. 31, when faculty, staff and students don their black-and-gold apparel ahead of the Sept. 1 football season opener at Vanderbilt Stadium against Middle Tennessee State University.
In the lead up to College Colors Day, Commodore fans on campus and across the nation are encouraged to show their black and gold through photos and video on social media using the hashtag #CollegeColorsDay.
Fans can visit CollegeColorsDay.com for discounts on new merchandise, including 30 percent cash back on Vanderbilt apparel purchases. Through Sept. 2, fans also can use the website to enter for the chance to win a variety of prizes, including the grand prize of airfare, hotel expenses and two tickets to the College Football Playoff National Championship, scheduled for Jan. 7, 2019, in Santa Clara, California.
College Colors Day is an annual celebration dedicated to promoting the traditions and spirit that embody the college experience. For more information, visit CollegeColorsDay.com.
Unleash your black and gold, and Anchor Down!