By Mitch Light, BA'93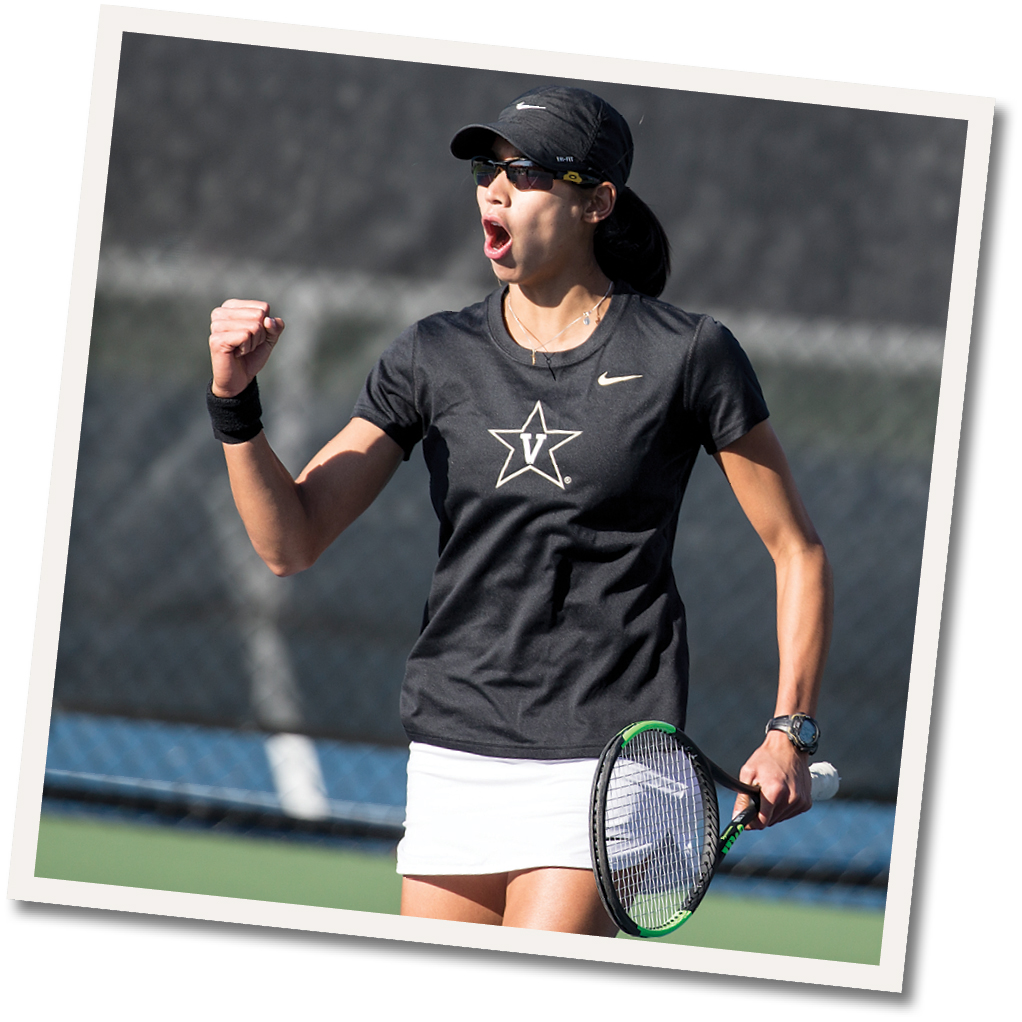 Women's tennis standout Astra Sharma, BA'18, originally had no plans to attend Vanderbilt, or any college for that matter, be it in the U.S. or her home country of Australia. The plan was to turn professional soon after completing high school.
"I had no idea about college tennis and had never heard of Vanderbilt," says the Perth native.
That all changed, though, when she broke her ankle a few months after graduating. Instead of going pro, Sharma thought it would be better to let her injury heal and give college tennis a try.
Five years later Sharma is a five-time All-American (twice in singles, three times in doubles) with a national title to her name. And after making her Grand Slam doubles debut at the Australian Open in January, she is finally realizing her dream of playing the pro circuit.
But in the end she came out further ahead than she ever could've imagined. Thanks to Vanderbilt, she received a world-class education as well.
"A lot of people are doing great things at Vanderbilt," says Sharma, who graduated in May with a degree in medicine, health and society. "We, as a team, take a lot of pride in the fact that we're a top program in tennis and also juggling academics really well."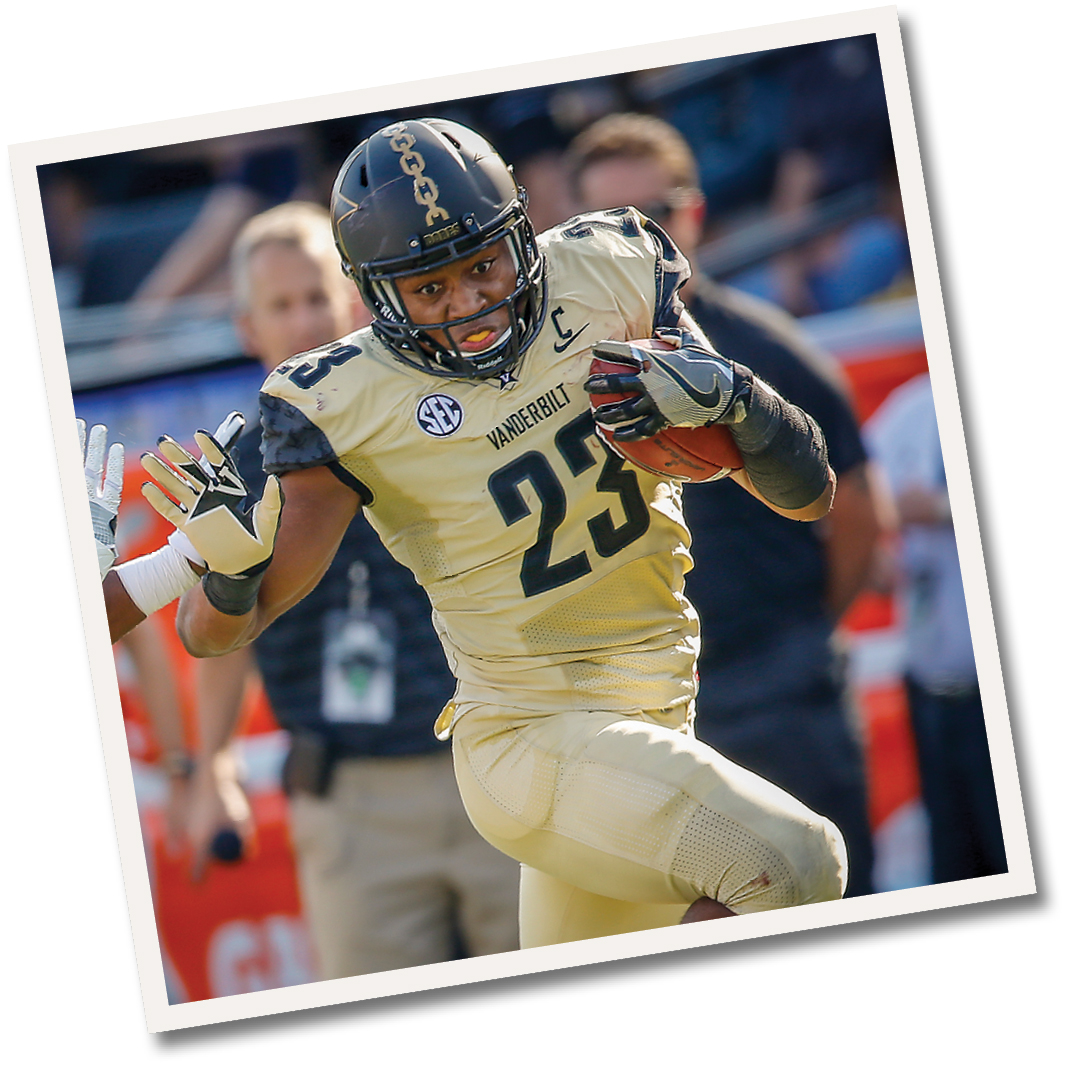 For Geoff Macdonald, head coach of the women's tennis team—and the person who recruited Sharma—her story offers a shining example of what it means to be a student-athlete at the university. He quips that he's honed his recruiting pitch to just 11 words: "Vanderbilt is an Ivy League school, but we play professional sports."
As the only private institution in the Southeastern Conference, Vanderbilt is charged with competing at the highest level of collegiate athletics with student-athletes who also can thrive in the classrooms of a top-15 nationally ranked university.
"It's a different deal at Vanderbilt," says Head Football Coach Derek Mason. "Our student-athletes have to go across campus and compete against students who don't really care about their athletic prowess, and then they have to come back and compete against athletes in the SEC who don't really care about their ACT or SAT scores."
David Williams II, athletics director and vice chancellor for athletics and university affairs, credits the coaches for creating an environment that has allowed student-athletes to thrive.
"This is really about education," Williams says. "What we want to do is get some people in here who desire a great education and who happen to be gifted athletes. But first and foremost, what we want to do here is educate. And our coaches understand that."
Darren Ambrose signed on as the women's soccer head coach in 2015 because Vanderbilt presented, in his words, "an elite opportunity at an elite place." Previously, he'd spent 14 seasons as head coach at the University of Pennsylvania, itself a top academic institution. But Vanderbilt offered a level of athletic competition that Penn could not.
"I wanted to be able to sell the great athletic piece, as well as the great academic piece," Ambrose says.
For Ambrose, Mason, Macdonald, and the head coaches of Vanderbilt's 12 other varsity sports, the top priority is identifying student-athletes who not only can excel on the playing fields but also embrace the academic mission of the university. And the key, according to each coach, is that the prospective students and their families understand the commitment that needs to be made to every aspect of life at Vanderbilt.
"We want kids who want to win an SEC championship," Ambrose says. "Soccer has to be a big part of their life. And they have to want to get a great education. I don't want someone to come just because it's a great education, and, by the way, they can play soccer. If you come in with that attitude, you won't survive in our program."
Macdonald says, "I tell families all the time, 'If you want a great education and you want to really develop your tennis, this is heaven. But if you just want the education part and not the tennis, or vice versa, it won't work.' We try to be really honest with what we expect. This place requires a real commitment."
THE WHOLE PACKAGE
The track record of Vanderbilt's student-athletes in the classroom speaks for itself. For the 2017–18 academic year, they compiled a cumulative 3.11 GPA, topping the 3.0 mark for the 13th consecutive year. And their graduation rate—96 percent in the latest numbers released by the NCAA—once again led the SEC and ranked among the top 10 percent of the 65 schools in Power Five conferences.
At the same time, the varsity teams have enjoyed a remarkable string of successes. During their time on campus, student-athletes in the Class of 2018 helped win two NCAA championships—in women's tennis (2015) and bowling (2018)—as well as eight conference championships. And 17 of the student-athletes were recognized as All-Americans.
Sharma, who was a redshirt freshman when the team won its national title, is perhaps the most accomplished athlete in Vanderbilt history. That may never have come to pass had it not been for her aforementioned ankle injury, but it was another unexpected setback—this time for Vanderbilt—that serendipitously opened the door for her recruitment.
"We lost a kid to Stanford whom we thought we were going to get," Macdonald says. "We were kind of heartbroken."
The very next day, though, Macdonald received a tip from the husband of a former SEC tennis player he'd once recruited about an intriguing prospect in Australia who, he recalls, "was a bit raw but was a player who could really be developed."
That player turned out to be Sharma.
A few months later Aleke Tsoubanos, BS'04, the assistant women's tennis coach, traveled to Australia to watch Sharma play.
"Aleke told me she was interested," Sharma says, "but I had no intention of following up with her. I said, 'No, I'm good. But thank you very much.'"
About four months after meeting Tsoubanos, Sharma broke her ankle. Five months later Sharma was enrolled in classes at Vanderbilt and well on her way to a record-setting career.
"I got lucky the way it turned out," she says. "It was a perfect fit."
Though it worked out well for all parties involved, Sharma's recruitment was anything but conventional. Most Vanderbilt student-athletes take a less circuitous path to campus. Lauren Demarchi, for example, a junior goalkeeper on the soccer team from Hudson, Ohio, knew just what she was looking for in terms of athletics and academics.
"I was one of those kids who was really well-versed in colleges," says Demarchi, who's majoring in human and organizational development. "I wanted to use soccer as my gateway into a really good academic school. I looked at some Ivy League schools but picked Vanderbilt based on the coaching staff, the location, and the competition of the SEC."
Khari Blasingame, BA'18, a running back from Huntsville, Alabama, had a similar outlook when weighing his options. Now a fifth-year senior, he flipped his commitment from the University of Minnesota to Vanderbilt shortly after Mason was hired in January 2014.
"Football was a big part of the equation, but the education was huge," says Blasingame, who graduated in May with a degree in medicine, health and society and is now pursuing a master's in leadership and organizational performance at Peabody College. "My parents really emphasized education. I understand that there will be life after football, so getting that Vanderbilt degree is huge. The SEC and the academics—it's the whole package."
GOLDEN TICKET
Sharma, Demarchi and Blasingame were all high-achieving high school students who have excelled, predictably, at Vanderbilt. But not all the recruits fit that profile.
"We pride ourselves on the fact that we've brought in a lot of kids who probably wouldn't have had the chance to go to Vanderbilt [if it weren't for athletics]," Williams says.
If a coach believes a recruit deserves a closer look despite deficiencies in his or her academic profile, certain procedures must be followed. This is where Vanderbilt's Athletics Compliance Office comes into the picture. The office, which ensures that coaches and student-athletes are adhering to NCAA, SEC and university rules and regulations, serves as a liaison between the athletics department and the university's Office of Undergraduate Admissions.
"If Admissions is doing a review of a prospect and the prospect's academic profile does not fit what we're looking for, one of two things can happen," says Erin Adkins, a former Vanderbilt assistant athletic director and director of compliance who's now at UCLA. "One is that the coach walks away. Obviously, that's hard, but our coaches understand they can't get everyone into Vanderbilt. At other times they really believe the prospect can do the work. In that case, we'll have the athletics academic counselors also look at the prospect's profile, and they'll come up with an academic plan to help the prospect be successful.
"We'll put up certain parameters for the student," she adds. "For example, they'll come to summer school, and if they don't hit a certain GPA, they'll sit. Then we bring it to David [Williams] and other people around campus. David must feel comfortable that this student can do the work. There are a lot of discussions."
With 85 players on scholarship at any given time, the football program is home to the most players who fit into this category—and it's a part of the process that Mason takes very seriously.
"I embrace the opportunity to change a life," he says. "I believe in some ways Vanderbilt can be a golden ticket, giving a young man opportunities that weren't in front of him before we stepped into the picture. But to whom much is given, much is expected. I've now seen four cycles of graduates come through here, and what I've witnessed are lives impacted for the better and opportunities that have been seized by these young men."
Mason, who was the defensive coordinator at Stanford before making the move to Nashville in 2014, believes that universities like Vanderbilt are more attractive than ever to recruits and their families.
"The game has changed," he says. "Nowadays, parents and student-athletes are smart shoppers. They have access to so much information. Parents come to me to talk about what their son wants to do and why a Vanderbilt degree can make a difference. When that happens, I know I have the right families coming into my office. I know I'm recruiting the right kids."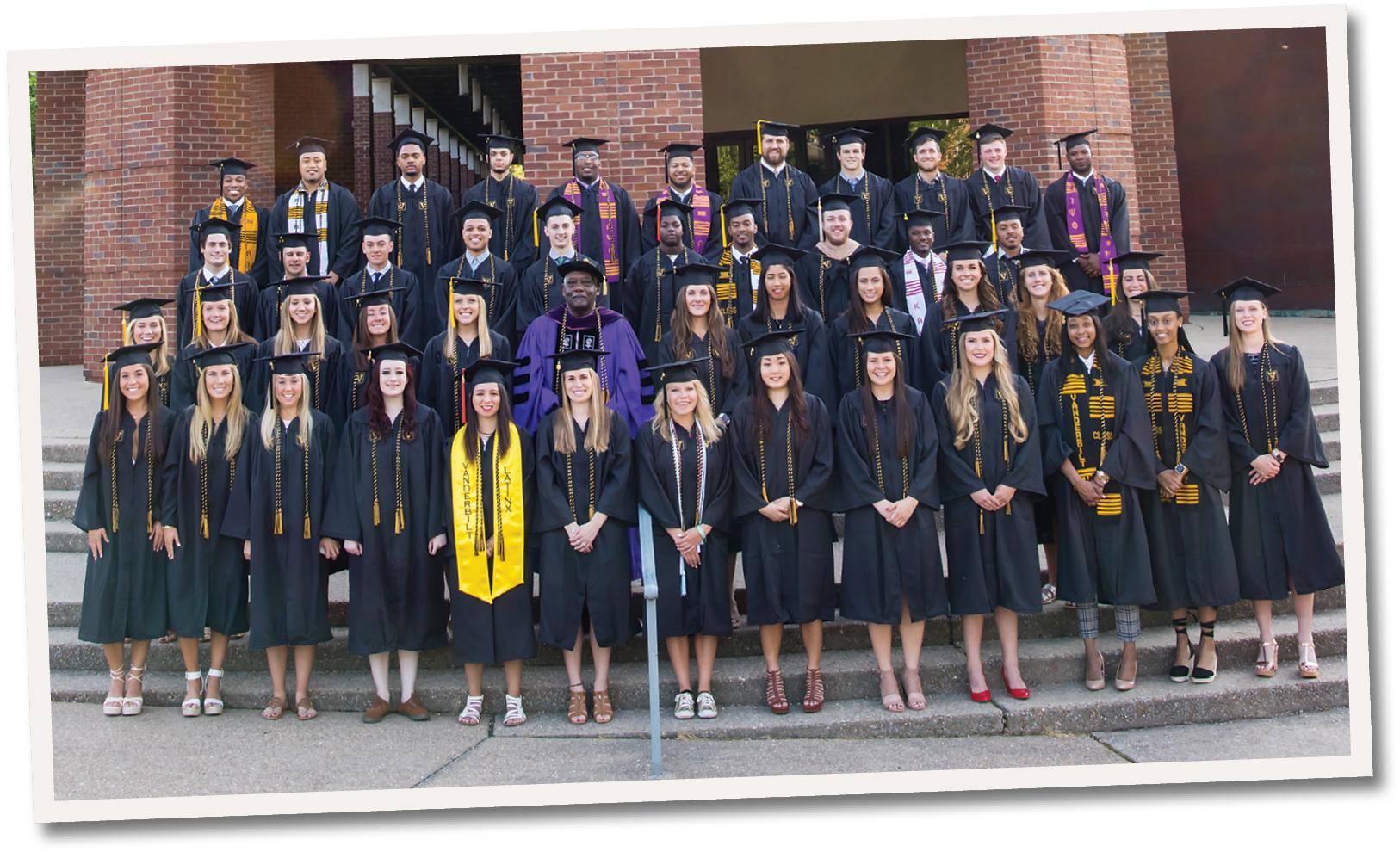 SCOUTING PLAYERS
Ambrose's sales pitch is similar to every other coach's on campus, but he is facing unique challenges because of the changing dynamics of recruiting in his sport. It's now common for female soccer players to commit to college before their sophomore year of high school.
"We're recruiting kids at such a young age," says Ambrose, who already has secured several commitments from students set to graduate from high school in 2020. "When you're talking to a [high school] senior—the kids who have gone through the college counseling process at their school—they know about Vanderbilt. Their counselors are excited about it. But when the kids are younger, like the ones we have to recruit now, they don't always understand the type of impact a place like Vanderbilt can have."
Recruiting such young student-athletes offers another challenge: Vanderbilt cannot technically offer a scholarship to an underclass student who has an incomplete transcript and has yet to take the ACT or SAT. This can create some awkward conversations in an era in which athletes as young as 14 boast about their offers on social media for the world to see.
"A lot of what you're seeing on social media are verbal offers," Adkins says. "You'll have a Class of 2022 high school student tweet about an offer, and that's something our coaches really have to balance. When an admissions person sees that on Twitter, we will get a phone call and they'll say, 'Have we really offered a ninth grader [admission]?' But Admissions has worked with us and understands the climate and the expectations. They know that the coaches make it clear to prospects that verbal offers are pending admission to Vanderbilt."
The goal for each coach is to recruit quality athletes who are a good fit at Vanderbilt, but how they go about identifying those prospects is unique to each sport.
Ambrose and his staff, who need to fill about six to eight roster spots with each recruiting class, scout players at elite club tournaments all over the country, primarily in the spring and the summer. "We typically don't recruit during our season [in the fall]," he says. "Other than that, we are constantly on the road."
The program also hosts several Elite Prospect ID camps throughout the year to get a better look at players the coaches have watched at tournaments.
Tennis is similar to soccer in that the coaches are on the road scouting at national-level tournaments, but Macdonald and his staff—who had only nine players on the entire 2017–18 roster—must be far more selective. Just two players were signed in the 2018 recruiting class, the fewest of any sport on campus.
Mason, on the other hand, must identify anywhere from 15 to 25 SEC-worthy prospects each recruiting cycle. He and his staff spend a considerable amount of time visiting prospects in their homes and high schools, but—unlike the majority of the other sports—most of their evaluation is done on campus when Vanderbilt Football hosts summer camps.
"It's better for us to get them here and for us to see them with our own eyes on our campus," he says. "Most of our commits are coming from guys who've been to our camps, who've seen our campus two or three times. They know exactly who we are, and we know who they are."
'THE CITY, THE SEC AND THE DEGREE'
Macdonald, whose tenure is longer than any other current Commodores coach, has witnessed firsthand the transformation of Vanderbilt as a university and Nashville as a city—two factors that have made the school a more desirable place to play.
"Nashville has become internationally known as a really great city," he says, "and Vanderbilt is an integral part of the city. The university has made incredible progress. We've changed from more of a Southern school to one that's now nationally and internationally known."
Reinforcing this notion are the global experiences afforded to Vanderbilt's student body, including its student-athletes. Every summer numerous student-athletes take advantage of study abroad programs offered through the university's Global Education Office, traveling to places like Europe, South Africa and Australia.
"We're setting a trend at Vanderbilt," Williams says. "We're giving kids an experience that student-athletes generally don't get at this level."
Mason, for his part, looks at everything Vanderbilt has to offer—its conference, academics, location and extracurricular programs—as one big recruiting tool.
"I talk about the idea of the city, the SEC and the degree," he says. "The SEC is the best football conference in the country. We have a world-class education coupled with the fact that we're in the best city in the country.
"I truly believe we have the best of all worlds," Mason adds. "We're looking for kids who want it all."
---
Hoops Haul: Men's basketball signs stellar recruiting class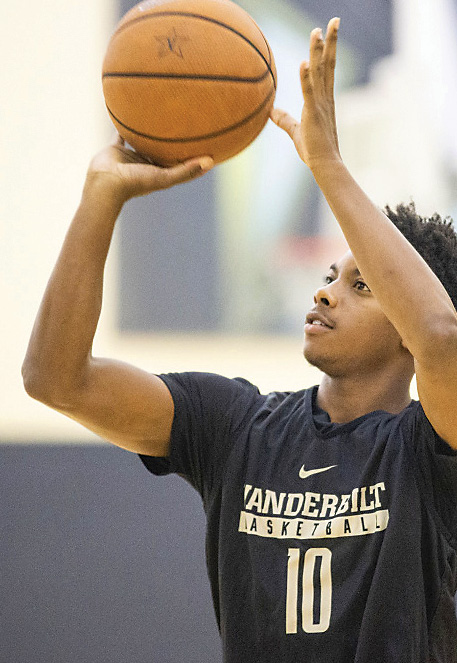 Head Coach Bryce Drew and the Vanderbilt men's basketball program recently made national headlines by securing the university's top recruiting class in at least five decades.
The Commodores' 2018 class features three of the nation's top-75 recruits, including two ranked in the top 15. Until this spring, Vanderbilt had not signed a top-75 player since 2011 (Dai-Jon Parker, No. 48).
The class is headlined by Darius Garland, a point guard from Brentwood Academy in Tennessee, who picked Vanderbilt over Duke, Kentucky, Indiana and UCLA in a hotly contested recruiting battle.
Garland garnered most of the headlines, due in large part to his being a local prospect, but the highest rated of the new recruits is Simi Shittu, a power forward from Canada ranked No. 11 in the nation by the 247Sports Composite. Shittu, who played high school basketball in Vermont, picked Vanderbilt over Arizona and North Carolina.
The third prospect is shooting guard Aaron Nesmith, a South Carolina native who soared up the recruiting rankings with a strong showing as a high school senior. Nesmith, ranked No. 62 nationally, chose Vanderbilt over South Carolina and Florida.
The three freshmen will join two other newcomers—transfers Matt Ryan from Notre Dame and Yanni Wetzell from St. Mary's, a Division II school in Texas—and five returning players on the Commodores' 2018–19 team.
---
Mitch Light is managing editor at Athlon Sports in Nashville. He graduated from Vanderbilt in 1993 with a bachelor's in economics.
---