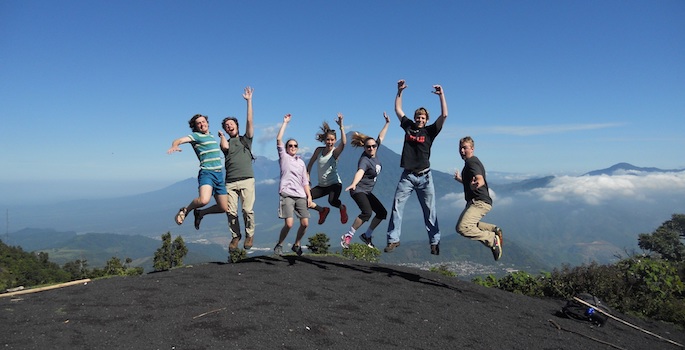 Vanderbilt University's Center for Latin American Studies will expand its trans-institutional collaborations and public engagement in Tennessee and across the country—thanks to a $1.64 million grant from the U.S. Department of Education. The four-year grant renews the center's prestigious designation as a comprehensive National Resource Center for Latin America. The National Resource Center designation is the highest recognition an academic center can receive.
"The Center for Latin American Studies is one of the leading centers of its kind in the nation," said John Geer, dean of Arts and Science. "I'm pleased by this renewed federal investment in our 'One Vanderbilt in Latin America' model of trans-institutional collaboration."
The Center's "One Vanderbilt in Latin America" model integrates teaching, research and public engagement, with a focus on particular places and themes. This federal funding will allow CLAS to expand its collaborations across colleges and schools, fund native language instruction and support summer research for students. It will also support secondary outreach programs and collaborations with historically black colleges and universities in the region. Working with Peabody faculty, CLAS will help prepare K-12 teachers to teach students from diverse backgrounds; in conjunction with the Library, it will digitize the Afro-Colombian collections, making those materials available online; and collaborating with the Nashville Children's Theater, it will commission and produce a new play.
The new grant will strengthen the One Vanderbilt in Latin America model in a variety of ways, according to Edward F. Fischer, director of the Center for Latin American Studies and Cornelius Vanderbilt Professor of Anthropology. "We will be able to better integrate research and teaching and to increase language offerings by employing virtual classroom technologies," he said. "In addition, the grant funds a Visiting Resource Professor program that integrates four-week visits by prominent scholars and political leaders into on-campus seminars."
Fischer praised the accomplishments of faculty and students that have made the center's leadership in Latin American studies possible. "We are blessed with an especially accomplished and engaged group of faculty and students, and Vanderbilt is the perfect size and environment to foster interdisciplinary collaboration," he said. The center is home to the Vanderbilt Institute for Coffee Studies, the InterAmerican Health Alliance and other research and teaching initiatives.
In addition to the designation as a National Resource Center, the award includes Foreign Language and Area Studies fellowships that will support the study of K'iche' Mayan, Brazilian Portuguese, Haitian Creole and Quechua at Vanderbilt and abroad. CLAS collaborates with Tulane University to offer the Mayan Language Institute each summer in Guatemala, and the Portuguese Language and Brazilian Culture program.
"Our long-standing collaborations with minority-serving institutions, and particularly those with Tuskegee University, are one of the key focuses of this grant," said CLAS executive director Avery Dickins de Girón. "The funding will expand Portuguese and Spanish language instruction for students at Tuskegee and Meharry Medical College, and introduce new study-abroad opportunities for students at those institutions to study alongside Vanderbilt students, increasing diversity and inclusion."
Founded in 1947 as the nation's first Institute of Brazilian Studies, the Center for Latin American Studies has a long history of engagement with the region. Vanderbilt has a remarkable concentration of Latin Americanists, with particular strengths in Brazil, Central America, the Black Atlantic and the Andes. Since 2006, CLAS has been designated as a National Resource Center.
Over the last decade, the center has increased its engagement with faculty and students; currently, 16 percent of the College of Arts and Science faculty have an affiliation, as well as 42 faculty in the professional schools. "We are the only program at Vanderbilt to have substantive joint programs with every school and college on campus," Fischer said. The center's public outreach program has also grown over the last decade, reaching more than 190,000 individuals last year.