VUToday: Cost of human life, Harry Potter in the classroom in weekly roundup of news
Aug. 10, 2018, 12:23 PM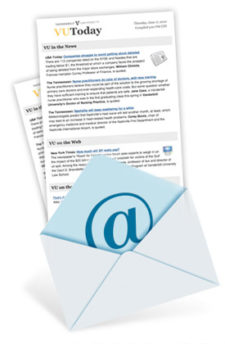 The Vanderbilt University Division of Communications publishes "VUToday," a compilation of Vanderbilt mentions in the media, three times per week. Read a selection of Vanderbilt news stories for the week of Aug. 6.
Freakonomics Radio: Who decides how much a life is worth?
Kip Viscusi, University Distinguished Professor of Law, Economics, and Management, discusses his research regarding the cost of a human life.
Education Week: How two schools are thinking globally and taking action locally
Vanderbilt Student Amaya Allen writes about two schools which used the principles of global competence education to empower their students to take action on issues that mattered to them.
Mother Jones: Opioid addiction among pregnant women has quadrupled
Stephen Patrick, assistant professor of pediatrics, is quoted. The Washington Timespublished a related piece.
Huffington Post: Why I use Harry Potter to teach a college course on child development
Originally published by The Conversation, Georgene Troseth, associate professor of psychology, writes about her use of Harry Potter in the classroom.