Safe and Sound Week fire safety tips – gift card prize available for employee participation
Aug. 10, 2018, 3:05 PM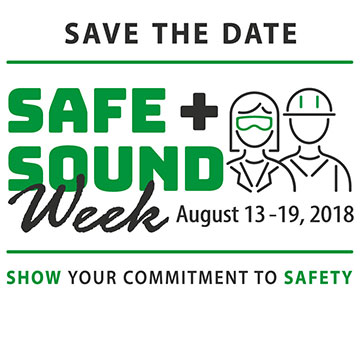 Vanderbilt University is committed to workplace safety and encourages faculty and staff to participate in this week's Occupational Safety and Health Administration (OSHA) Safe and Sound Week.
The Office of Workplace Safety is hosting a photo contest for all university employees to showcase safe work practices in their facilities. Participants will be entered to win a grand prize gift card to Moe's Southwest Grill.
Fire safety is an important workplace safety issue.
Prevention measures you can take are:
Never leave your popcorn popping in the microwave. One of the most common causes of fire is due to cooking equipment. Be sure to turn off toaster ovens after use.
Bring a sweater to work if you are cold. Several factors can cause a space heater fire, such as: forgetting about the space heater when you leave for the day, setting it too close to flammable materials, or malfunctioning equipment.
Take a few moments and look at all of your electrical equipment in your work area.If you see frayed electrical cords, unplug them and take them out of service. If you feel that a piece of equipment is overheating, do the same.
Keep your exit routes clear. When fire occurs, there is always smoke. The buildup of smoke can make it difficult to see your exit. If you have clutter in the hallways and stairwells, it becomes an obstacle for a quick and easy exit.
So what do you do if a fire does break out in your workplace? Now is a good time to review your response plan. Here are a few reminders:
If you see smoke or fire, the fire alarm pull station needs to be activated. Pull stations are located at stairwells exits and building exit doors.
If it is a small fire, you can attempt to put out the fire with an extinguisher. A good reference for a "small" fire is to think about the size of your bathroom trashcan at home. Anything bigger than that, leave the building.
Be familiar with two exit routes in your building. In the morning, we usually come in one way, and when we leave, exit through that same door. What if that exit is blocked during a fire? Take some time to locate another exit route.
If you would like more information regarding Safe and Sound Week, or for general safety inquiries, contact Tamara Cooley, VU Workplace Safety Officer, at tamara.j.cooley@vanderbilt.edu.
Employees are encouraged to report any safety issues or concerns to their supervisor.