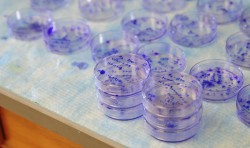 Vanderbilt University faculty, staff and graduate students are invited to attend a campuswide training on SPIN, Vanderbilt's external funding opportunity database, on Wednesday, Aug. 29, hosted by the Office of Corporate and Foundation Relations. The training session is scheduled from 2:30 to 3:30 p.m. in the Student Life Center, 010 Meeting Room 1 & 2.
Vanderbilt transitioned funding opportunity databases in July 2018 from ProQuest Pivot to InfoEd Global SPIN. Vanderbilt University employees may access SPIN here.
The SPIN database offers several advantages, including:
more accurate information from searches;
more results due to a broader range of search options; and
vetted deadlines for requests for proposals (RFPs) by InfoEd's staff.
For more information on establishing a SPIN profile and how to search for funding opportunities, please view this presentation.
For additional technical assistance, Vanderbilt employees should contact Corporate and Foundation Relations at (615) 322-8856. VUMC employees should contact the VUMC Corporate and Foundation Relations team at (615) 936-3088.