Media Inquiries
Latest Stories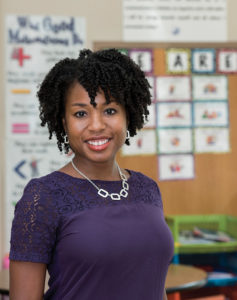 Cicely Woodard, MEd'03, the 2018 Tennessee Department of Education's Teacher of the Year, knows what it takes for kids—and their parents—to succeed in the classroom. The veteran eighth-grade math instructor has toured the state as an education ambassador this year while also continuing to teach at West End Middle School in Nashville.
From speaking at the Tennessee Educators of Color Alliance Conference to visiting the White House with the nation's other Teacher of the Year winners, the past 12 months have entailed travel, public appearances and, yes, teaching. "It has been a beautiful journey," says Woodard. "This is something I was chosen to do for a purpose and a time."
As summer draws to a close, Woodard and her husband, an assistant superintendent for Maury County Public Schools, are busy preparing for the new school year. In addition to developing lesson plans and other tasks, the couple also will be helping their two sons, ages 9 and 11, get back into the school routine.
Here are Woodard's five tips for making that transition smooth:
1. SPREAD OUT AND SHUT DOWN.
Many children have required summer reading, math packets, or other work they are asked to complete during the summer break. "I encourage students to spread their work out over the summer," says Woodard. Parents also have a job to do in providing the right environment for students to do that work. "Start by shutting down all screens for a little while," she suggests. It's also helpful to schedule your child's annual physical and dental visits before school resumes. "You want your children to be in school as much as possible so they don't miss anything," she says. "In our family, if we are going to the doctor during the school year, it's because the kids are sick."
2. BACK UP BEDTIMES.
"In my house we get off schedule in the summer," Woodard says. "I find that my kids stay up a little later and sleep in a little more, so catching the school bus at 6:45 is definitely a big shock." To get them used to waking up early, don't wait until the night before school begins to demand an earlier bedtime. "Move that bedtime up 10 to 15 minutes a day until it's right where it needs to be," says Woodard. "Children need rest in order to learn and participate in everything the teachers have planned."
3. GET ACCLIMATED.
If possible, meet your children's teachers and locate their classrooms before the school year begins. Learn the route from the front door to their homeroom and what they are expected to wear. "Understanding what is going to be expected of your children before school starts helps both the parents and the kids feel more comfortable," Woodard says. She recommends that families review the class schedule, in part to find out when the teacher's planning periods are. "That way, you can catch the teacher when no students are in the room."
4. UNWIND AND DINE.
Once the school year does begin, Woodard says parents will want to provide a good environment in which the kids can do their homework, complete with nutritious, enjoyable snacks. When their work is done, give them time to unwind. "Children need the opportunity to be outside and play with neighborhood kids or in a park," she says. Likewise, Woodard advocates having family dinners as often as possible. "We are so busy in the afternoons, but try to sit down to eat as a family without any screens present," she says. "I learn so much about my family and what's going on with them around the table."
5. READ EVERY NIGHT.
Many students have 20 minutes or more of required reading each night, which can be a challenge if your child does not like to read. "Make reading part of your nightly routine," Woodard suggests. "Help them find books by authors they enjoy, a series they really love, or a topic they connect to." Parents should get in on the action, too, maybe even reading the same books. "What if more adults had conversations with kids about the books they are reading? That would be really powerful."
Text by Elizabeth Cook Jenkins, BS'99
Illustrations by Oriol San Julian
---