By Amy Wolf
A team of Vanderbilt students from a diverse array of majors traveled to the Central American island of Utila, Honduras, for a research experience examining the impact of tourism on corals and other ocean ecosystems.
The students were led on this monthlong Maymester class by anthropology professor and avid scuba instructor Norbert Ross.
"What I like about this Maymester immersion program is that it's not just learning about coral ecology, chemistry and biology, but really how it's linked to human behavior—how it's linked to colonialism and history, but also how it feeds back in to tourism," Ross said.
Ecosystems above and below
The students took courses in the importance of corals to the island ecosystem, such as creating homes for fish nurseries and protecting the island during storms.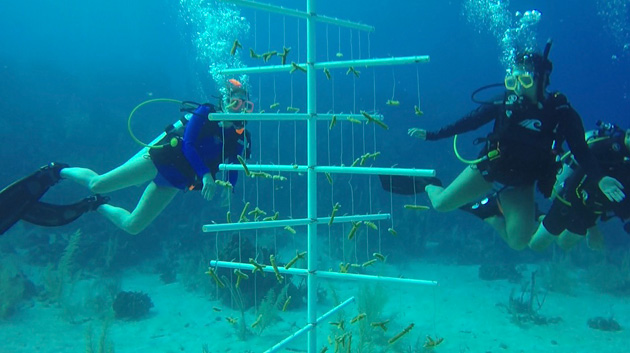 "This Maymester taught me about a new culture both above and below water and allowed me to fall in love with both," said elementary education major Sarah Megan Erb. "I gained experiences that expanded my worldview far beyond where it was before the class."
From learning to action
Ross says the students were inspired not only to learn, but to help. They used their own money to support a PVC pipe "tree" where new corals can grow. The coral nursery is being built by a nonprofit organization to try to rejuvenate the important animal species in the area.
"It was fascinating to learn about corals, but the more challenging perspective for the students was to examine how studying corals and underwater ecology can translate into policy action," Ross said. "Science is especially important if it translates into some kind of ideological change."
Inner strength
Ross said possibly one of the greatest benefits of the immersion was the impact the scuba training had on many of the students. Here's how one student in the class explained the experience.
"I learned so much about the history, environment and culture of the Caribbean, but I also learned about myself. I discovered that scuba diving depends on the strength of your mind and ability to stay calm, and with this discovery I found that my mind was much stronger than I thought it was."
Learn more about Maymester abroad and on-campus immersion experiences.