VUToday: Best value colleges, America's lost buildings and early voting in weekly roundup of news
Jul. 27, 2018, 7:41 PM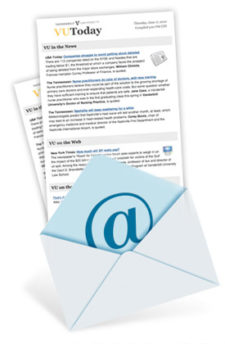 The Vanderbilt University Division of Communications publishes "VUToday," a compilation of Vanderbilt mentions in the media, three times per week. Read a selection of Vanderbilt news stories for the week of July 23.
CNBC: The 20 best value colleges of 2019
Vanderbilt University is listed among the 20 best value colleges of 2019 because of its need-blind admissions and loan-free financial aid packages.

Forbes: America's best employers for women 2018
Vanderbilt Universityis among one of America's best employers for women. In addition, Anjali Forber-Pratt, assistant professor of human and organizational development, was highlighted by Forbes' in a piece about the recent Ellevate Conference which focused on "Mobilizing the Power of Women."
CNN: Remembering America's lost buildings
Kevin Murphy, professor of history of art, writes, along with other related experts, about American architecture that should have been saved from demolition. The Conversation first published the piece.
The Conversation: A conservative activist's quest to preserve all network news broadcasts
Tom Schwartz, professor of history, writes about Vanderbilt's TV news archive. WTOP and Smithsonian Magazine republished the piece.
Washington Post: 'Stark pattern of discrimination': Judge makes it easier for college students to vote
A Florida ruling determined that barring early voting centers from university campuses is unconstitutional. Jenny Diamond Cheng, lecturer at the Law School, is quoted. The article was also published by the Post's e-newspaper as well as the Huffington Post.