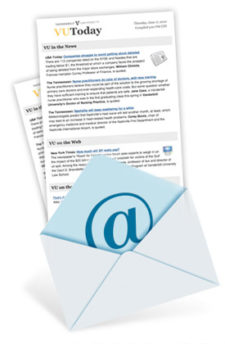 The Vanderbilt University Division of Communications publishes "VUToday," a compilation of Vanderbilt mentions in the media, three times per week. Read a selection of Vanderbilt news stories for the week of July 16.
Fox News: Virtual reality developers aim to spark tech boom in the Deep South
Vanderbilt graduate student Adam Mangana is directing a virtual reality lab in Mississippi. Mangana was interviewed.
Huffington Post: 'Like a ghost town': Erratic nursing home staffing revealed through new records
Federal data suggests nursing homes nationwide have inadequate staffing rates. David Stevenson, associate professor of health policy, is quoted.
Newsweek: One in 10 Tennessee children prescribed opioids for non-severe conditions over 15-year period, study finds
A new Vanderbilt study suggests that many children are prescribed opioids they don't need. Stephen Patrick, assistant professor of pediatrics, is quoted. UPI published a related piece in which Cecilia Chung, assistant professor of medicine, is quoted

Tennessean: Tennessee immigration judges order record number of deportations, denials for asylum
Deportation rates are on the rise in Tennessee. Karla McKanders, clinical professor of law, is quoted.