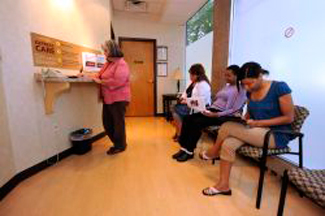 Not feeling well at work? There's a convenient health care option right here on the Vanderbilt campus dedicated to quickly serving faculty and staff.
Faculty/Staff Express Care, provided by the Occupational Health Clinic, is a benefit for Vanderbilt faculty and staff where you can walk in with your Vanderbilt ID to be seen for a variety of minor acute illnesses. The clinic is open weekdays from 7:30 a.m. to 4 p.m. in Suite 112 of the Medical Arts Building, located at 1211 21st Ave. S. You can visit Express Care for treatment related to any of the following conditions:
Cough, cold and flu
Sinus infections
Upper respiratory infections
Allergies
Sore throats
Ear infections
Eye infections
Common skin rashes and infections
Urinary tract infections
Faculty and staff are not charged for seeing the nurse practitioners who provide the care at this clinic. However, any external services that are ordered, such as lab tests or X-rays, will be charged to your insurance.
Express Care is not a substitute for a primary care provider. We encourage all Vanderbilt employees to have their own primary care provider to provide preventive and ongoing care. If your medical problem is urgent in nature and you cannot get in to see us or your PCP, you may use one of more than 5,000 high-quality, trusted providers in the Vanderbilt Health Affiliated Network. Visit quickcare.vhan.com to find an in-network walk-in or urgent care clinic near you.
For more information about faculty/staff Express Care, visit https://www.vumc.org/health-wellness/occupational-health/express-care.