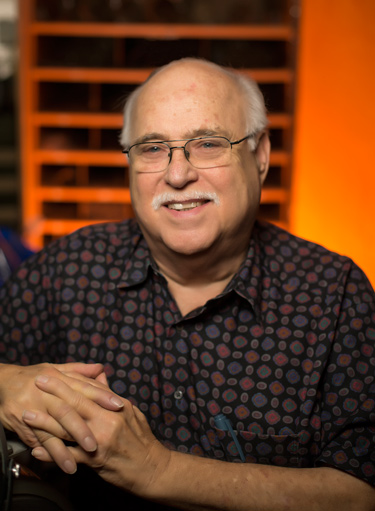 Thomas Floyd "Tommy" Howe Jr., who served as the scientific glassblower for Vanderbilt's Department of Chemistry for 30 years, died June 29 in Nashville. He was 76.
During his three decades at the university, Howe made major contributions to the chemistry department's teaching and research programs as well as to other science departments in the College of Arts and Science, School of Engineering and School of Medicine. Howe retired from the Department of Chemistry in 2016.
His abilities ranged from fabricating incredibly intricate scientific glassware to mass-producing simple glassware for the teaching labs in the Department of Chemistry that saved the College of Arts and Science an estimated tens of thousands of dollars during the expansion of its undergraduate laboratory courses, according to Andy Hess, professor of chemistry, who was instrumental in hiring Howe in 1986.
"While I was chairman of the Department of Chemistry in the early '80s, I had to fill the vacant position of scientific glassblower," Hess recalled. "Being an experimental organic chemist, I had had the opportunity to work with glassblowers at Yale, the University of Oregon and also Vanderbilt. I knew that academic glassblowers were very difficult to work with—they were artists, only interested in jobs that challenged them but not those from researchers who were using in most cases simple laboratory glass."
While there were a number of candidates for the Vanderbilt position, Howe distinguished himself among them, Hess said.
"I sensed that not only was Tommy an excellent glassblower, but also a wonderful person. It did not take long to see that he was the most talented glassblower that I had ever encountered in my career," Hess said. "He was, in fact, likely the most talented university glassblower in the United States, having had numerous offers from other universities during his tenure at Vanderbilt."
Howe was able to create deeply intricate pieces of scientific glass that displayed his artistic skill and ambition, in addition to carrying out the demands of mass production of simple glassware for stocking Vanderbilt's teaching labs, Hess said.
"During his early tenure as our glassblower, the department experienced a large increase of undergraduate students taking organic chemistry, which required several hundreds of relatively simple pieces of glassware to be fabricated. Tommy undertook this task without any hesitation and over several summers was able to produce the required pieces. In this way he saved the university tens of thousands of dollars over having to purchase this glassware from a scientific supply company," he said.
Howe is also remembered for his warmth, kindness, loyalty and readiness to assist in the research projects of Vanderbilt chemists as well as many other scientists across the university.
"After 50 years of service to Vanderbilt, I can say with deep honesty and pride that the choice of Tommy as our glassblower-artist [is] one of my most important achievements," Hess said. "He changed the laboratory standards of our scientific community."
In addition to his glassblowing skill, Howe was a gifted baritone in the Southern gospel tradition, singing since age 3. He performed with his group, the Houston, Texas-based Royals, and would often fill in for prominent groups such as Masters V and The Blackwood Brothers, among others. Howe was a member of White House Church of God.
He is survived by his wife of 58 years, Tollie Louise Pate Howe; a daughter, Darla Gayle Howe-Hixon; two sons, Thomas Floyd "Jym" Howe III and wife Christina, and Walter Dillon Howe; two sisters; two grandsons; and one great-granddaughter.
A celebration of Howe's life is planned for Monday, July 16, from 7 to 9 p.m. at Northridge Church, 309 Wilkinson Lane, White House, TN, 37188. The family will receive guests at the church beginning at 5 p.m.