Media Inquiries
Latest Stories
The oil portrait of Eddie George that Everett Raymond Kinstler began during a lecture and painting demonstration last March is on display at the Vanderbilt Fine Arts Gallery through Saturday, July 14.
George, a former star Tennessee Titan turned professional actor, was among those attending a public unveiling ceremony at Cohen Memorial Hall, where he expressed admiration and gratitude for Kinstler's work. "I was really overwhelmed to be included among the 2,000 subjects that he's painted over his lifetime," George said. "To be a part of that list is truly tremendous. I'm actually the first professional football player that he's painted."
George's portrait briefly joins the Fine Arts Gallery's current exhibition, "America Creative: Portraits by Everett Raymond Kinstler." Other portraits on display include those of actor Katharine Hepburn, writer Tom Wolfe, singer Marian Anderson, entertainer Tony Bennett and former President Ronald Reagan.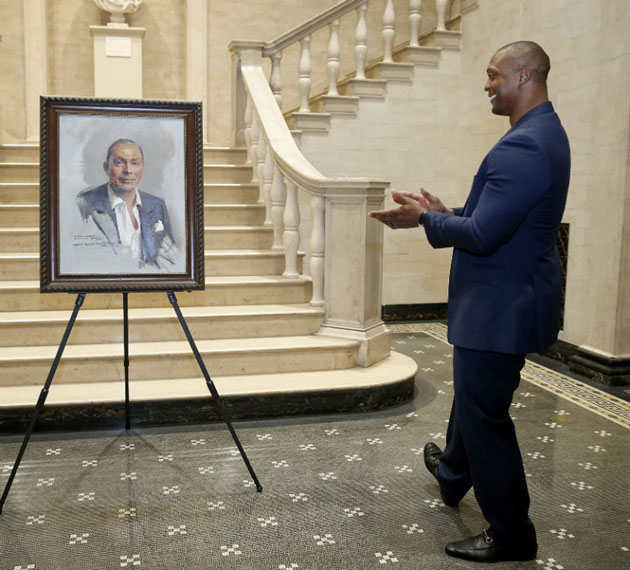 Kinstler has generously gifted the portrait to George, who noted that the March painting demonstration with Kinstler in Sarratt Cinema became an extraordinary conversation between the two artists. "We talked about everything from my career to his career, the people that he's painted, the things that I'm doing now, including my family," he said. "It really made me think about my life now as an artist."
During the painting demonstration, the 91-year-old Kinstler talked about the importance of feeling for both an actor and a painter. He noted that what he tries to capture is not necessarily the perfect proportions of the person he paints, but rather the feeling of that individual's personality.
The exhibition, which is free and open to the public, has been curated by Joseph Mella, director, and Margaret Walker, assistant curator, of the Vanderbilt Fine Arts Gallery, with special thanks to the artist, Peggy Kinstler and Michael Shane Neal.