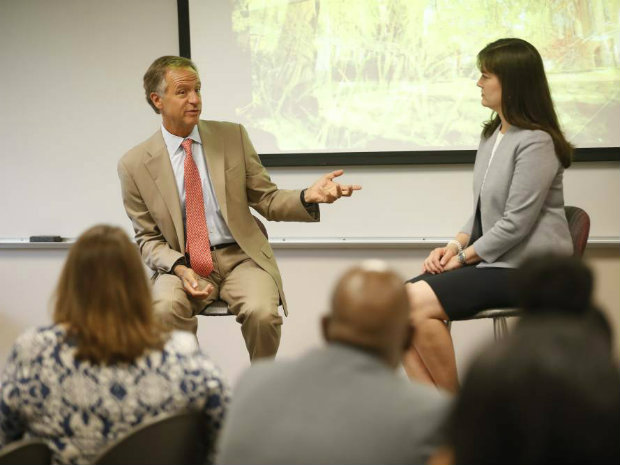 Tennessee Governor Bill Haslam seemed a little envious when speaking to a group of aspiring school principals at Vanderbilt's Peabody College of education and human development on June 12. "What you all do is cool," he said. "There is zero question your job matters."
Haslam said that had he not gone in to politics, he might have liked to be a history teacher and a JV basketball coach. "Not the varsity," he quickly emphasized.
The governor's remarks came during a candid conversation on leadership with a group of fellows of the Governor's Academy for School Leadership, which Haslam established in 2016 to build a pipeline for effective principals across the state. The academy is jointly administered by the Tennessee Department of Education and Peabody College faculty.
GASL's third cohort of 25 fellows were in residence on campus as part of their year-long training. Selection as a fellow is highly competitive.
Responding to questions from Commissioner of Education Candice McQueen as well as from GASL participants, Haslam said he sees principals as the critical ingredient for making a school successful.
Currently in his eighth year as governor and as the mayor of Knoxville before that, Haslam has had time to hone the thoughts on leadership he shared with the group.
"It's all about hiring great people, period," he said. Having the right people at hand is important to addressing problems when things inevitably go wrong. He said he looks for individuals who have humility but who hustle, and for those who are smart enough to quickly and realistically assess a situation.
It helps to know what you don't know, he said. "People who get in trouble don't know what they don't know."
"When you become principal, even if you've been assistant principal, there's going to be a lot that you don't know and that's ok…You can't let your own insecurities take over while you're in the process of learning."
The GASL fellows were eager to know other things, from Haslam's thoughts on school choice to the books that have influenced him.
Jordan Littleton Hughes, who was recently named principal of Boones Creek Middle School in east Tennessee's Washington County, said the governor's visit inspired her.
"It feels invigorating to hear our governor speak so passionately about education," Hughes said. "In facing all the problems of our future with our gaps between the wealthy and the poor widening, education is the golden ticket. It has been an honor to be in GASL and take part in this experience."
Haslam affirmed that he sees himself continuing to be involved in education even after leaving the governorship in 2019.
This should come as no surprise. In introducing the governor, Peabody Dean Camilla P. Benbow thanked him "for being truly an education governor. We can talk about supporting education, or we can walk the talk. You have done the walking and the talking."