VUToday: Self-driving cars, prosthetic ankle in weekly roundup of VU news
Jul. 9, 2018, 9:59 AM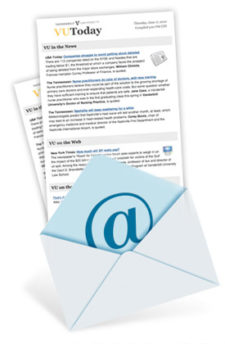 The Vanderbilt University Division of Communications publishes "VUToday," a compilation of Vanderbilt mentions in the media, three times per week. Read a selection of Vanderbilt news stories for the week of July 2.
USA Today: How self-driving car or adaptive cruise control could ease traffic jams
A National Science Foundation study reveals that having a single self-driving car on the road can reduce congestion. Daniel Work, associate professor of civil and environmental engineering at Vanderbilt who led the study, is quoted, as is Raphael Stern, a graduate research assistant at VU and a lead researcher on the study.
Salon: New telescope will scan the skies for asteroids on collision course with Earth

Doctoral student Michael Lund writes about protecting the Earth from asteroids. This piece, originally published by The Conversation, has also been shared by Space.com, Sputnik News and Live Science.
Washington Post: The Health 202: 'Gag clauses' mean you might be paying more for prescription drugs than you need to
Lawmakers on both sides are seeking ways to remove gag clauses from the fine print of pharmacy contracts. Stacie Dusetzina, associate professor of health policy, is quoted.

Mashable: Prosthetic ankle prototype makes it easier to use stairs
H. Fort Flowers Chair in Mechanical Engineering Michael Goldfarb has developed a new prosthetic ankle making it easier to walk on uneven ground. Previous coverage has included Popular Mechanics, MSN, Tech Spot and New Atlas.