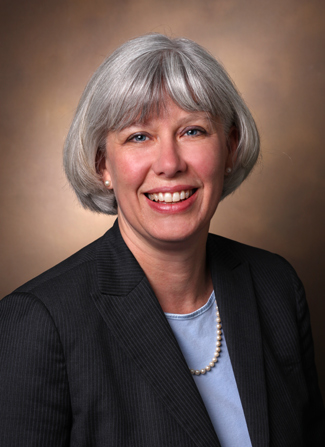 Audrey Anderson has announced her decision to resign as vice chancellor, general counsel and secretary of Vanderbilt University effective July 31, 2018.
"I am grateful to Audrey for her impeccable service to our university and for her expertise, which proved so valuable during many transformative decisions for Vanderbilt," Chancellor Nicholas S. Zeppos said. "She demonstrated steadfast leadership and counsel during the transition of Vanderbilt University Medical Center to a separate legal entity and served as a trusted and instrumental team member on many complex issues throughout her tenure. Her contributions to Vanderbilt's success are immeasurable. Audrey's dedication to Vanderbilt is exemplary, and she will be greatly missed."
Anderson joined the Vanderbilt administration in March 2013 and led the team responsible for providing legal advice to all Vanderbilt departments in areas covering contracts, intellectual property, taxation, business matters, faculty and student matters, and personnel issues. She also managed all litigation proceedings on behalf of Vanderbilt. Prior to the Vanderbilt University Medical Center transition, Anderson also was responsible for the team providing legal advice to the Medical Center.
"I have loved my time at Vanderbilt and enjoyed being part of so many successes for the university. It has been an honor to serve the faculty, students and staff of Vanderbilt and to work alongside Chancellor Zeppos and my distinguished colleagues on many exciting initiatives over the past five years," Anderson said. "I am looking forward to the next professional chapter in my life and will be eager to watch Vanderbilt continue its forward momentum. I will miss the many talented professionals who comprised my team and am grateful for their partnership and camaraderie during my tenure."
Anderson came to Vanderbilt after serving as deputy general counsel of the Department of Homeland Security. She was previously a partner in the Washington, D.C., law firm of Hogan & Hartson (now Hogan Lovells) in the education and litigation practice groups and was an adjunct professor at Washington College of Law at American University from 2006 to 2007. Anderson clerked for Chief Justice William H. Rehnquist of the U.S. Supreme Court and Judge Harold H. Greene of the U.S. District Court for the District of Columbia. She earned her bachelor's degree in economics from Northwestern and her law degree from the University of Michigan.
Zeppos will conduct a national search for Anderson's successor and has appointed Deputy General Counsel Ruby Z. Shellaway as interim general counsel beginning Aug. 1, 2018.
Shellaway joined the Office of the General Counsel in August 2015. Prior to coming to Vanderbilt, she served as an attorney for the U.S. Department of Homeland Security, where she advised the department on significant legal issues and novel legal questions related to civil rights and civil liberties. She also advised the Office of the General Counsel on budget and hiring, strategic planning, and communications with senior department officials. She served as the deputy managing counsel from February 2015 until joining Vanderbilt.
Shellaway was previously an associate in the education practice group at the law firm of Hogan & Hartson (now Hogan Lovells), where her practice focused on representing and advising public school districts and higher education institutions. Following law school, she clerked for Judge James Robertson of the U.S. District Court for the District of Columbia, and for Judge Judith W. Rogers of the U.S. Court of Appeals for the District of Columbia. She is a graduate of Amherst College and earned her law degree from Yale Law School.