The White House Office of Science and Technology Policy honored two Vanderbilt researchers with its top award, the Presidential Awards for Excellence in Science, Mathematics and Engineering Mentoring, on June 25.
Vanderbilt's recipients were astrophysicist Keivan Stassun, Stevenson Professor of Physics and Astronomy; and research pathologist Virginia Shepherd, who accepted on behalf of the Vanderbilt Center for Science Outreach. They were among 140 individuals and organizations honored this year.
This year's recipients received a presidential citation, and will receive $10,000 from the National Science Foundation, which oversees the awards program. While at the White House, recipients participated in discussions on STEM and STEM education priorities.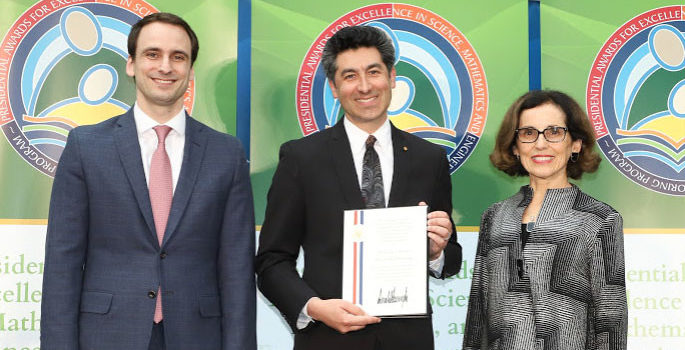 Keivan Stassun
In 2003, Stassun co-founded the Fisk–Vanderbilt Master's-to-Ph.D. Bridge program, which uses master's degrees and research as stepping stones to a Ph.D. for underrepresented minority students. In 2017, Stassun began directing the Initiative for Autism, Innovation and the Workforce, a trans-institutional program established to help adults on the autism spectrum find meaningful work. In December, he was one of 14 professors named a Howard Hughes Medical Institute Million-Dollar Professor for his work to keep more women, underrepresented minorities and persons with disabilities in the physical sciences, and in February, he was honored with the American Association for the Advancement of Science Mentor Award.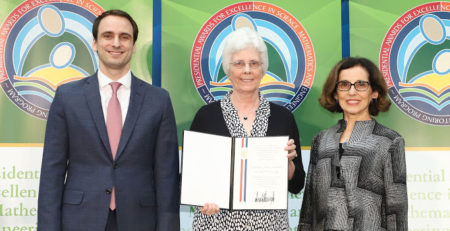 Vanderbilt Center for Science Outreach
Virginia Shepherd, a research pathologist for more than three decades, directs the Vanderbilt Center for Science Outreach at Vanderbilt's Peabody College of education and human development. As director for the past two decades, Shepherd uses her strong research background and passion for science education to create and implement diverse programs for K-12 students and educators. The center implements innovative programs connecting scientists with the K-12 students and providing professional development for teachers. Programs include the School for Science and Math at Vanderbilt, the Interdisciplinary Science and Research Program, the Scientist in the Classroom Partnership, Family Science Nights and Day of Discovery.
More about the awards program
The Presidential Awards for Excellence in Science, Mathematics and Engineering Mentoring were established by the White House in 1995 to recognize the critical roles mentors play outside the traditional classroom in the academic and professional development of the future STEM workforce. Colleagues, administrators and students nominate individuals and organizations for exemplary mentoring sustained over a minimum of five years, with special consideration given to mentoring of groups underrepresented in the STEM fields.