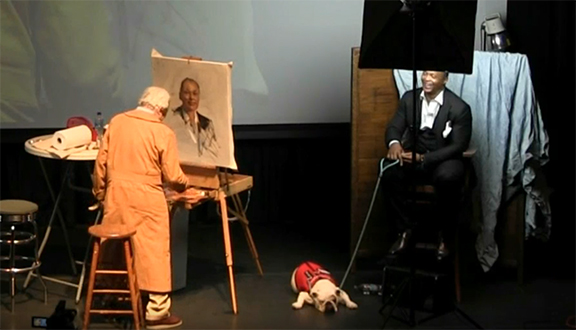 A portrait of Eddie George by Everett Raymond Kinstler, one of America's most notable portrait artists, will be unveiled at the Vanderbilt Fine Arts Gallery July 10 at 6 p.m.
George, a former star running back for the Tennessee Titans who has become a professional actor and performed on Broadway, will attend the unveiling ceremony. The event is free and open to the public.
Kinstler, whose famed portraits include those of eight U.S. presidents, began this oil portrait of George during a March lecture and painting demonstration in Sarratt Cinema. During the painting demonstration, Kinstler talked about the importance of feeling for both an actor and a painter. He noted that what he tries to capture is not necessarily the perfect proportions of the person he paints, but rather the feeling of that individual's personality.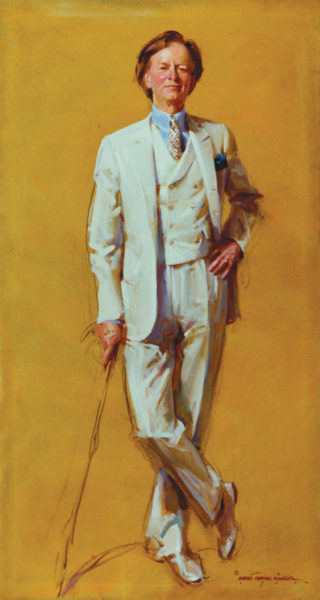 "I don't worry about the people who say the mouth is not right or the jaw is out of proportion," Kinstler told the audience. "I know when I have the feeling right." The 91-year-old Kinstler has painted more than 2,000 individuals—leaders in almost every field—during his career.
George's portrait will join the Fine Arts Gallery's current exhibition, "America Creative: Portraits by Everett Raymond Kinstler." His portraits, on display at the gallery through July 14, include actor Katharine Hepburn, writer Tom Wolfe, singer Marian Anderson and entertainer Tony Bennett.
The exhibition has been curated by Joseph Mella, director, and Margaret Walker, assistant curator, of the Vanderbilt Fine Arts Gallery, with special thanks to the artist, Peggy Kinstler and Michael Shane Neal.
For more information on the unveiling ceremony, email Margaret Walker or call (615) 343-1702.
Bonnie Ertelt contributed to this story.