VUToday: Teen suicide rates, Nigeria's HIV epidemic in weekly roundup of VU news
Jun. 15, 2018, 3:12 PM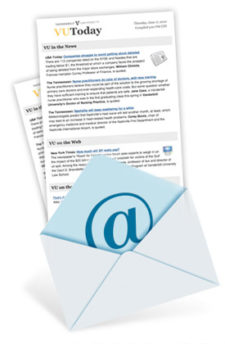 The Vanderbilt University Division of Communications publishes "VUToday," a compilation of Vanderbilt mentions in the media, three times per week. Read a selection of Vanderbilt news stories for the week of June 11.
USA Today: The teen suicide rate has more than doubled: Here's how you can help save your child
A recent Vanderbilt study highlights the large increase in school-age children and adolescents hospitalized for suicidal thoughts or attempts.
Science Magazine: Nigeria has more HIV-infected babies than anywhere in the world. It's a distinction no country wants
Mother-to-child transmission is only one part of Nigeria's HIV epidemic, but that route of transmission epitomizes the country's faltering response to the crisis. Muktar Aliyu, associate director for research in the Vanderbilt Institute for Global Health, is quoted.
The Conversation: Do abused women need asylum? 4 essential reads
Attorney General Jeff Sessions' recent decision reopens a long-running argument over what constitutes a need for asylum. Jonathan Hiskey, associate professor of political science, is quoted. WTOP also picked up on this story.

Buzz Feed: An elite science group is giving advice on preventing sexual harassment—but hasn't gotten rid of its own harassers
BethAnn McLaughlin, assistant professor of neurology and pharmacology, is quoted. Related stories were published by Vox, The Washington Post, Nature and The Chronicle of Higher Education.

The Washington Post: 'The gay glass ceiling': Researchers find gay men are frozen out of top management spots
Gay men typically don't get as far as straight men with similar skills and qualifications, analysis shows. Christopher Carpenter, professor of economics, is quoted. Quartz published a related piece, as did Bloomberg.