Media Inquiries
Latest Stories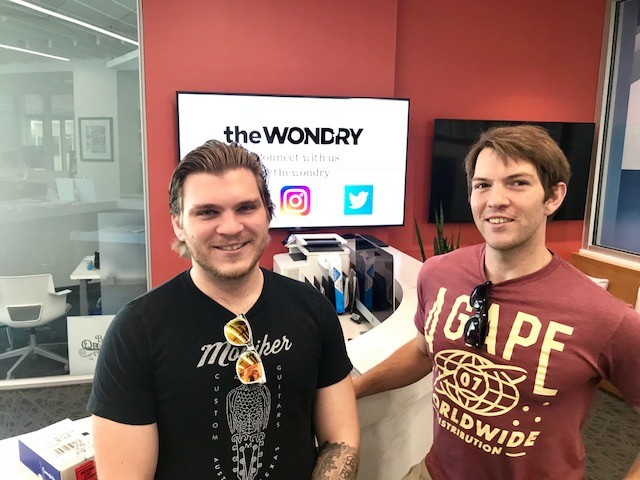 Budding music-industry entrepreneurs at the Wond'ry are getting advice from two brothers whose diverse skill sets mesh together ideally for the business they launched.
Jeremy Burchard works as a singer–songwriter and music journalist. Jason Burchard first earned an engineering degree and then graduated from the London School of Economics. Their startup, RootNote, invests in promising musicians so talented artists can become their own companies and brands.
RootNote helps them with business plans, legal protections for their work, planning and funding tours, and a variety of other tasks that record labels or the musicians themselves may not be willing or able to take on. Musicians can buy back RootNote's equity in them at fair market value whenever they'd like.
"This is a long play meant to create valuable companies that the artists control," Jeremy Burchard said.
The Texas natives moved to Nashville in 2016 to expand their business and met Robert Grajewski, Evans Family Executive Director at the Wond'ry, Vanderbilt's innovation center. The three quickly determined there was a gap in the makerspace and entrepreneurial center's team of volunteer advisers; sitting in Music City, the center needed people versed in the music industry.
"We want to be sure that any potential entrepreneur who comes onto Vanderbilt University's campus and seeks help at the Wond'ry has someone knowledgeable in their area who can guide them," Grajewski said. "Jeremy and Jason bring an incredibly broad knowledge base and creative ideas that they're eager to share."
The Burchards led workshops on music entrepreneurship in fall 2017 and spring 2018. They recently hired Owen Graduate School of Management alumnus Brian Huefner, MBA'18, to lead RootNote's strategy and operations efforts.
"There are incredibly sharp and talented people here at Vanderbilt," Jason Burchard said. "We're getting to work with students who have drive and vision, and we can increase their access to what can be a very tough industry."