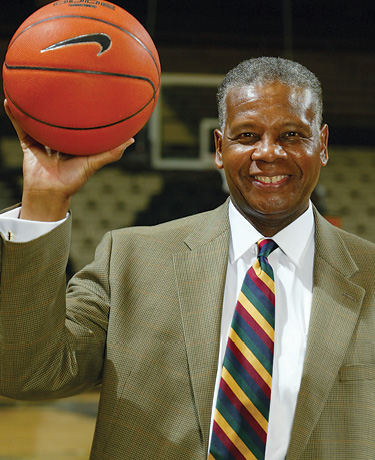 Civil rights trailblazer Perry Wallace, BE'70, who became the first-ever African American varsity basketball player in the Southeastern Conference when he suited up for Vanderbilt in 1967, has been honored with a new scholarship at the university.
The Perry E. Wallace Jr. Basketball Scholarship provides support for student-athletes at Vanderbilt, rotating recipients between the women's and men's varsity basketball teams. Gail Carr Williams, associate director of community, neighborhood and government relations, and David Williams II, Vanderbilt's athletics director and vice chancellor for athletics and university affairs, made the inaugural charitable contributions for the scholarship, along with their children, Nicholas, Samantha, David III and Erika.
"The scholarship is an enduring way to extend Perry's legacy at Vanderbilt," says David Williams. "The student-athletes who receive this scholarship will carry forward his example of courage, resilience and perseverance for years to come—a model for both our university and for athletics broadly. We invite our community to join us, deepening this powerful legacy by supporting this scholarship with gifts of any size."
Wallace, who died Dec. 1, 2017, is the subject of the New York Times best-selling biography Strong Inside by Andrew Maraniss, BA'92, and the documentary film Triumph: The Untold Story of Perry Wallace, both of which chronicle his role in integrating the SEC. As part of the 50th anniversary celebration of that historic 1967 season, the conference awarded Wallace its prestigious Michael L. Slive Distinguished Service Award shortly after his death.
Wallace also was recognized by Vanderbilt on several occasions for his lasting impact at the university. Vanderbilt Athletics retired his jersey and number 25 in 2004 and created the Perry Wallace Courage Award in 2014 to celebrate individuals who best reflect his legacy. In 2015 the Perry E. Wallace Jr. Scholarship in Engineering was established in his honor at the School of Engineering, and earlier this year he was honored posthumously with the 2017 Vanderbilt University Alumni Association Distinguished Alumni Award, the highest honor bestowed upon a member of the university's alumni community.
To make a contribution to the Perry E. Wallace Jr. Basketball Scholarship, visit vu.edu/wallacescholarship or contact the National Commodore Club office at (615) 322-4114.
---