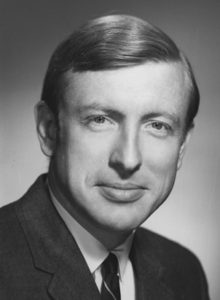 Eugene Arthur TeSelle Jr., Oberlin Professor of Church History and Theology, emeritus, and a strong advocate on community issues ranging from urban neighborhood preservation to integrated schools, died March 1. He was 86.
TeSelle was born in Ames, Iowa, on Aug. 8, 1931. He graduated Phi Beta Kappa with a bachelor of arts from the University of Colorado in 1952. He also earned a bachelor of divinity at Princeton Theological Seminary, where he was awarded the Hodge Prize in Systematic Theology in 1954. He served as an assistant minister at First Presbyterian Church of East Orange, New Jersey, before enrolling at Yale University, where he earned a master of arts in 1960. Three years later Yale awarded him a doctorate.
TeSelle taught in the Yale Department of Religious Studies before joining the Vanderbilt Divinity School faculty in 1969. He was a specialist in the history of Christian thought, church and state, science and religion, the churches and controversial public issues, and Central America and U.S. public opinion.
TeSelle's books included Living in Two Cities: Augustinian Trajectories in Political Thought (1998, Chicago), Thomas Aquinas: Faith and Reason (1988, Graded), Christ in Contest: Divine Purpose and Human Possibility (1975, Fortress), Augustine's Strategy as an Apologist (1974, Villanova), and Augustine the Theologian (1970, Burns & Oates).
He volunteered his time and expertise to many important community issues. In 1970 he helped form and lead the Belmont–Hillsboro Neighbors. He worked on a comprehensive integration plan for Metropolitan Nashville Public Schools as a member of Concerned Citizens for Improved Schools. He was a board member of the Fair Housing Foundation of Nashville, serving as a liaison with the Civil Rights Division of the U.S. Department of Justice. He also was an organizer of the Nashville Peace and Justice Center.
Vanderbilt awarded TeSelle the Thomas Jefferson Award in 1995 for his service to the university, where he chaired the Faculty Senate and the Graduate Department of Religion.
His professional memberships included the Society for Values in Higher Education, American Academy of Religion, American Society of Church History, and Society for Early Christian Studies.
On campus he served as a faculty marshal at Commencement from 1984 through 1999.
TeSelle is survived by his wife, Penny Saunders TeSelle, MEd'93; a sister; two children, Elizabeth R. TeSelle, BA'84, and John G. TeSelle, BA'87; three stepsons, including William Peatman, BS'85, and James Peatman, BE'86; and nine grandchildren.