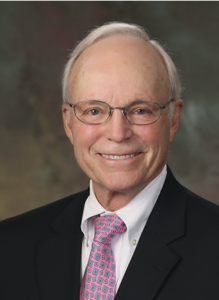 Frank F. Drowota III, BA'60, JD'65, who served on the Tennessee Supreme Court from 1980 to 2006, died April 15. He was 79.
Drowota served on the Davidson County Chancery Court and the state Court of Appeals before first winning a seat on the state Supreme Court in 1980. He was subsequently re-elected to new eight-year terms both before and after the selection of justices was shifted in 1998 from contested elections to the "Tennessee plan," through which sitting high-court judges are re-elected on a "yes-or-no" referendum. He served two terms as chief justice, and his 25 years on the Tennessee Supreme Court make him the second-longest-serving justice in state history.
Fittingly, Drowota was the first recipient of the Tennessee Bar Association's Justice Frank F. Drowota III Outstanding Judicial Service Award, which was created in 2006 after he retired as chief justice. The award now honors a Tennessee judge each year for exceptional service.
After retiring from the state Supreme Court, Justice Drowota served on the board of the Nashville School of Law.
Drowota served in the U.S. Navy for two years after earning his undergraduate degree at Vanderbilt, calling his service aboard the aircraft carrier Shangri-La "two of the best years of my life." He took the LSAT while onboard and decided to enter law school when his service ended. He joined Goodpasture Carpenter Woods & Sasser after earning his law degree. He was appointed to a seat on the Davidson County Chancery Court in 1970, and then was appointed to the Tennessee Court of Appeals by Gov. Winfield Dunn in 1974.
Drowota is survived by his wife, Claire Hooper Drowota, BA'67; two children, including Frank Russell Drowota, MD'98; a sister, Clare Anne Carpenter, BA'50, and a large extended family.