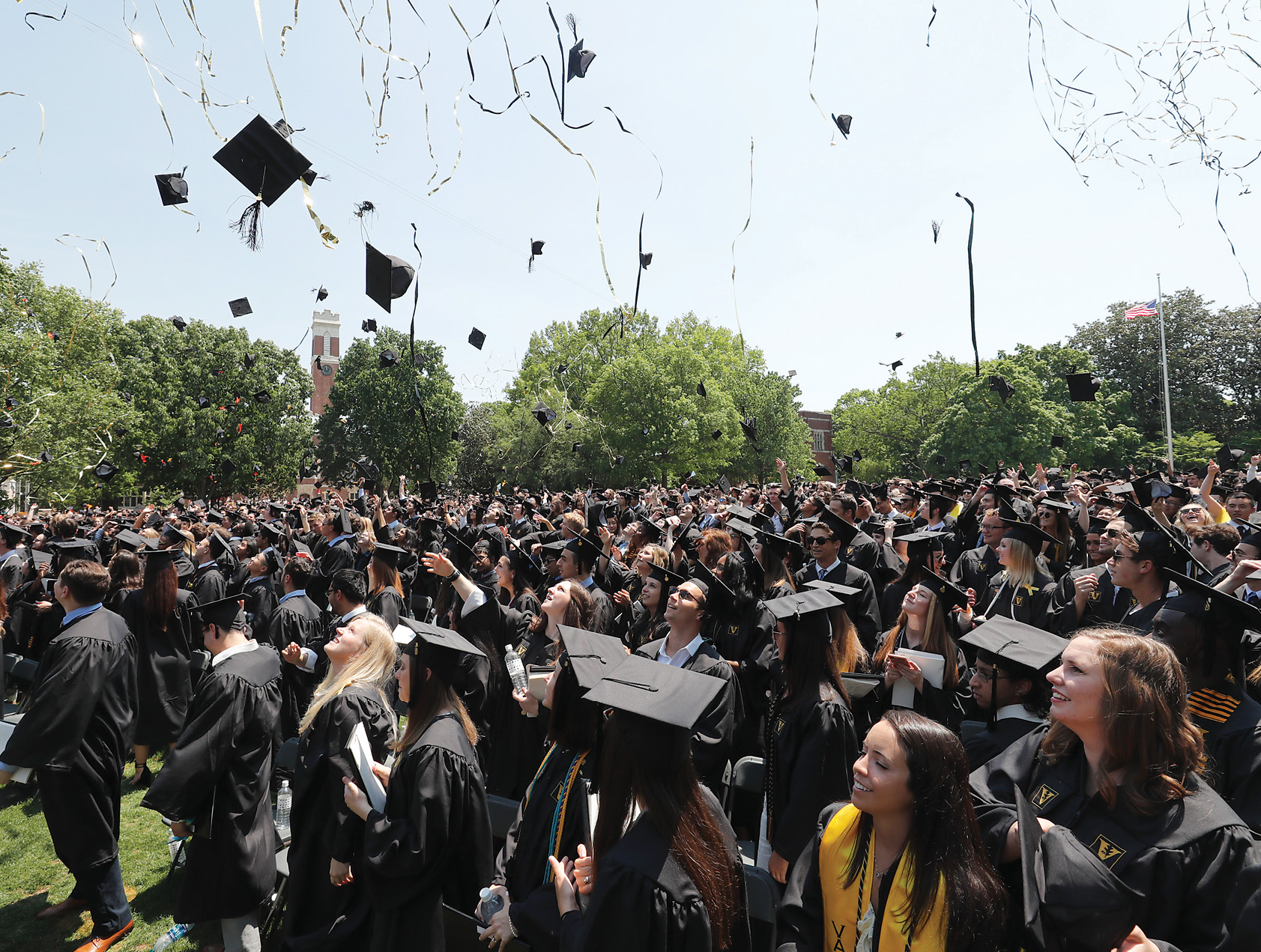 The day before our 2018 Commencement exercises took place on Alumni Lawn in May, Vanderbilt had the privilege of hosting human rights attorney Amal Clooney as the Senior Day speaker and recipient of the Nichols–Chancellor's Medal.
Clooney, who has spent her storied career fighting for justice in some of the most inhospitable corners of the world, delivered a simple but powerful message to graduating students: "Be courageous."
One person's act of courage, in whatever form it takes, inspires exponentially more courage in oneself and in others, she told the soon-to-be-graduates and their families. "Courage is contagious," as she so eloquently stated it.
That ideal of boldly advocating for people and causes that one believes in has been on my mind lately as I think about higher education's vital role in the American Experiment.
Beyond the shadow of a doubt, college remains the surest path to securing a good job, high-quality health care and enjoying a reasonable measure of stability for yourself and your family. As I mention in a piece reflecting on my first decade as chancellor, "Education is the ultimate vaccine." I can think of few other endeavors that have the broad, positive impact that higher education does. It's what fuels my passion every single day.
Research institutions like Vanderbilt also have a long tradition of nurturing breakthrough innovations—whether in areas like technology and medicine, or in art and the humanities. Vanderbilt faculty, students and staff members are literally doing work that changes the world.
Perhaps most important, look at our phenomenal alumni if you want to be reminded of the value of higher education. You'll read about how graduates like Matt Kisber, Leslie Labruto, Miles Barr and Baratunde Cola are taking the lessons and technical skills they learned at Vanderbilt to make sustainable energy a reality.
Meanwhile, poet Tiana Clark, MFA'17, is forging new paths in the literary world, and deservedly being recognized with an armful of awards and high-profile publications to show for it. She put it best when she says, "I knew how to write poetry by ear, but Vanderbilt taught me how to read the sheet music."
I told this year's graduates that as they leave campus, I hoped they too would become zealous evangelists for the transformative power of a university experience, and passionate defenders of everyone's right to have one.
Now, several weeks later, I ask the same of you.
—NICHOLAS S. ZEPPOS, CHANCELLOR
---