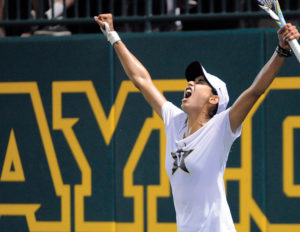 The Vanderbilt women's tennis team came up just short in its quest for a second national championship, falling 4–3 in a tight three-set match to the Stanford Cardinal at the Wake Forest Tennis Complex in Winston-Salem, North Carolina, May 22.
Despite the loss, the Commodores capped one of its most successful seasons, having captured its second consecutive Southeastern Conference Tournament championship April 22 in dominant fashion, sweeping No. 9 Florida 4–0 in the finals.
"I really feel great about this team," Head Coach Geoff Macdonald said at a news conference after the NCAA Championship match. "This team has been on an amazing journey and we missed it by a whisker. I'm proud."
The finals match also ended the college-team career of redshirt senior (and recent graduate) Astra Sharma, BA'18, who was named the NCAA Tournament's Most Valuable Player—an honor she also received as a freshman in 2015, when Vanderbilt took home the national title.
"For me personally, this was the most dominant team I've been on," says Sharma, a native Australian who plans to join the pro circuit. "From the get-go, this team was just used to winning."
Sharma remained in Winston-Salem, along with teammates Fernanda Contreras and Christina Rosca, to compete in the NCAA Singles and Doubles Tournament.
"We accomplished so much, and no one can take that away from this team," Sharma says. "College tennis brought me to Nashville, a place I treasure. … It's been special to be a part of this team at Vanderbilt."
---