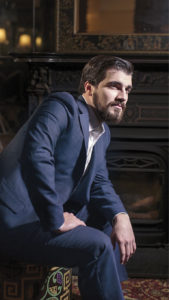 When Hurricane Harvey struck Houston in August 2017, one of the hardest-hit areas was downtown, home to the Houston Grand Opera. The company was flooded out of its Wortham Theater Center home, but the show would go on.
The company's season-opening production of Verdi's La Traviata moved to Exhibit Hall A3—dubbed the Resilience Theater—in the George R. Brown Convention Center.
Among the company members was Ben Edquist, a baritone who served an apprenticeship with the opera from 2015 to 2017.
"It was a pretty crazy amount of devastation," Edquist says. "The opera company flooded in a major way. They've spent most of the year trying to fix all of the water damage."
The city was submerged by 50 inches of rain, which caused 60 deaths and an estimated $180 billion in damage. Edquist, who now is a full-time freelance singer based in Houston, did his part to help Houston recover, removing carpet and helping to clean out flood-damaged houses in Space City.
Before helping to clean up hurricane debris, Edquist played the roles of Sir Walter Raleigh in Gregory Spears' O Columbia and Edward Kynaston in Carlisle Floyd's Prince of Players for the Houston Grand Opera. Wrote Opera News: "Edquist's warm, soothing voice and youthful, fresh-faced appearance were effective in realizing Kynaston's ambiguous sexuality and his gender-shifting performances."
In 2016, Edquist was named one of OperaNow's "10 Young Opera Singers to Watch," and he welcomes the designation.
"I don't think of it as pressure, but rather as motivation," he says. "That's why you get into the career: to make art and have people know that you're good at it so you can keep doing it."
Edquist initially double-majored in math and music, but he dropped math to focus entirely on singing. He was awarded a Lanier Leadership Scholarship to attend Vanderbilt and studied in Austria the summer after his junior year, where he was the youngest finalist in the Meistersinger Competition in Graz.
"I studied with some fantastic language coaches who taught me about German pronunciation," he says. He also sang with a professional orchestra in multiple concerts and performed with internationally renowned conductors. "It was an amazing opportunity."
—ANDREW FAUGHT