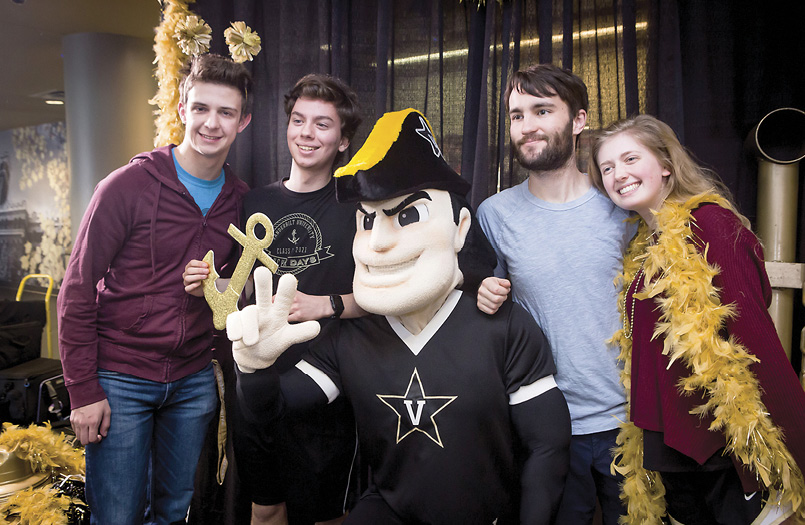 During Vanderbilt's third annual Giving Day on June 5, alumni from across the country showed their support and Commodore pride by making gifts of all sizes. Bryan Byrdlong, BA'15, was among them. As the chair of Graduates Of the Last Decade (G.O.L.D.) for the Nashville Chapter of the Vanderbilt Alumni Association, he helped plan a special Giving Day event where he joined fellow alumni to network and watch the Giving Day results roll in. Similar events took place in Atlanta, Chicago, New York, San Francisco and Washington, D.C., encouraging friendly fundraising competition among chapters.
As a student, Byrdlong discovered a passion for helping others through involvement in service organizations. Now, as a young alumnus, a commitment to philanthropy inspires his worldview.
"I like the idea that, as alumni, we can continue to learn from Vanderbilt," says Byrdlong. "By supporting our areas of interest at the university, we can also become better stewards in other areas of our lives."
Byrdlong sees G.O.L.D. alumni as playing an important role in strengthening Vanderbilt's future. He says that while alumni with more established careers might be perceived as having broader financial resources, every gift adds to the university's funding priorities, such as scholarships for current and future students who otherwise wouldn't be able to attend Vanderbilt. Byrdlong is also excited by the impact that gifts have on the reputation of Vanderbilt.
"Because alumni participation plays a significant role in U.S. News & World Report college rankings, it's been exciting to watch Vanderbilt rise on the list in the last few years," Byrdlong says. "Our contributions are what's pushing Team VU forward and providing fuel to continue to compete and improve. There's great camaraderie in that collective effort."
He adds, "For all that we learned on campus and for all that we've become through positive faculty encouragement, we, as a Vanderbilt community, have the responsibility to pay it forward."
To learn more about Giving Day results and how you can continue to participate, visit vu.edu/givingday.
—Liz Harrison