VUToday: Congressional balance of power, carbon nanotube development in weekly roundup of VU news
Jun. 1, 2018, 1:28 PM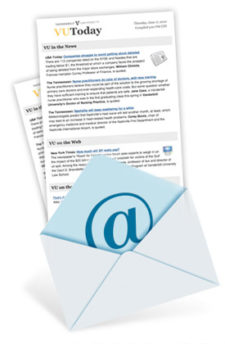 The Vanderbilt University Division of Communications publishes "VUToday," a compilation of Vanderbilt mentions in the media, three times per week. Read a selection of Vanderbilt news stories for the week of May 28.
Fox News: Tennessee Senate seat seen as crucial for balance of power
John Geer, Gertrude Conaway Vanderbilt Professor of Political Science, and Josh Clinton, Abby and Jon Winkelried Professor of Political Science, are interviewed about the Tennessee Senate race. Related articles were published by Politico, CNN, NBC, U.S. News, Washington Post, The Tennessean, SF GATE and Commercial Appeal. An associated Newsmax article also quoted Clinton.
Chicago Tribune: Spiritual book roundup: 'Dangerous Mystic' and more reviewed
Dangerous Mystic, written byJoel Harrington, Centennial Chair of History, is recommended.
Washington Post: Will 2018's 'pink wave' of female candidates make it in Congress? Almost certainly. Here's how.
Amanda Clayton, assistant professor of political science, writes about her research regarding the effect women have in politics.
MSN: Carbon dioxide can make carbon nanotubes
Scientists at Vanderbilt University have devolved a nontraditional way to construct small-diameter carbon nanotubes via carbon dioxide. Interesting Engineering published a related piece.