VUToday: Tennessee voter poll and youth suicide research in weekly roundup of VU news
May. 18, 2018, 1:35 PM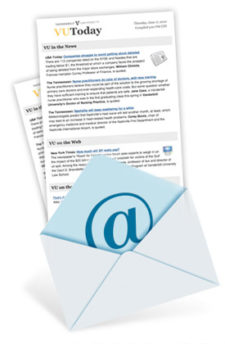 The Vanderbilt University Division of Communications publishes "VUToday," a compilation of Vanderbilt mentions in the media, three times per week. Read a selection of Vanderbilt news stories for the week of May 14.
The Tennessean: Tennessee senate race poll finds crucial voters view Bredesen better than Blackburn
The Vanderbilt poll, released Thursday, provides insight into competitive Tennessee senate and gubernatorial races. The Tennessean and other USA Today Network outlets covered related stories in which the poll illuminates public opinion on the gun debate and the Tennessee governor's race.
CNN, Politico, Fox, Times Free Press and Nashville Post have also posted related pieces.
Wall Street Journal: Youth suicidal behavior is on the rise, especially among girls
A new Vanderbilt study finding a rise in suicidal thoughts and attempts has garnered widespread media attention. The study, led by Gregory Plemmons, associate professor of clinical pediatrics, has been highlighted by USA Today, Fox, Time, Daily Mail (UK), Education Week and Health, among others. Plemmons is quoted.
NASA: What happens after launch: two NASA educational CubeSats
Vanderbilt students designed, built and launched a satellite into space. Ph.D. student Rebekah Austin is quoted.
UPI: Ultrasound helmet to help scientists image the brain, tap into neural networks
Brett Byram, assistant professor of biomedical engineering, and his research partners at Vanderbilt have received a $550,000 grant from the National Science foundation to develop a device that combines ultrasound and EEG technologies to image the brain in real time. Byram is quoted.
USA Today: The race to colonize Mars is on, but this astronomy professor isn't sure we should go
David Weintraub, professor of astronomy, grapples with the unintended consequences of a colony on Mars in his new book, Life on Mars: What to Know Before We Go. Other USA Today Network outlets including The Tennessean, Cincinnati.com, Daily News Journal and RNS have also highlighted Weintraub's work.