Media Inquiries
Latest Stories
---
---
Before Vanderbilt Student Government President Jami Cox and Vice President Ryan Connor walked across the Commencement stage, they joined Chancellor Nicholas S. Zeppos for one last visit as undergraduates. The conversation is the latest episode of The Zeppos Report.
When asked if they distinctly remember the first time they stepped foot on the Vanderbilt campus, Cox and Connor reply with a simultaneous, "Yes!" Connor says his first moment on the Vanderbilt campus was part of a visit to nearby Belmont University for a music competition.
"I stepped onto Wyatt Lawn and was awestruck," Connor said. "I pulled up the Wikipedia article for Vanderbilt and started reading through it, then I texted my dad saying, 'I think I'm going to apply early decision to Vanderbilt.'"
On the podcast, Cox shares her first time coming to Vanderbilt during MOSAIC weekend.
"I came in February, it was cold, and I arrived with my little sleeping bag and duffle bag—I was very nervous because I had never spent time on a college campus before. But Vanderbilt was beautiful and I fell in love with it then," Cox said.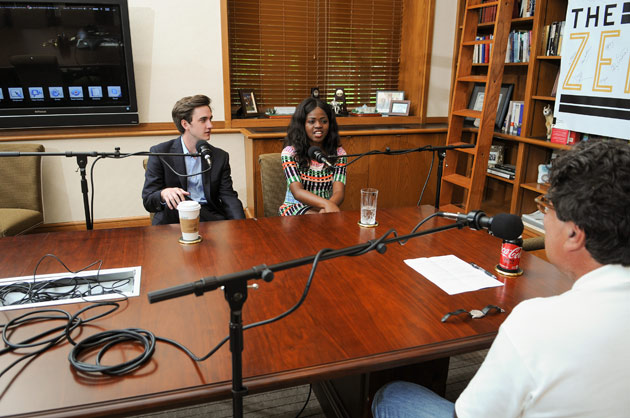 Cox and Connor met in a first-year seminar class called "Making Connections." During the class, they each mapped out their goals for their four years at Vanderbilt and took action steps to achieve them. Two years later, they were elected student body president and vice president.
Connor is now preparing to begin a job with McKinsey & Company in Denver, Colorado. Cox is a Schwarzman Scholar who will pursue a master's in global affairs at Tshinghua University in Beijing, China.
"For those of us who choose to devote themselves to education and life on a college campus, that's why we do what we do. It is all about the ability to see someone go on to do amazing things and to be a part of the journey," Zeppos said.
The podcast is available on SoundCloud, Stitcher, Google Play, iTunes, YouTube and The Zeppos Report website.