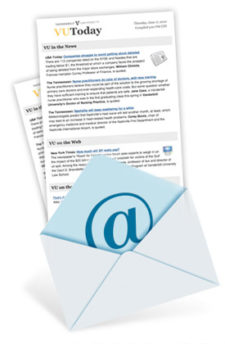 The Vanderbilt University Division of Communications publishes "VUToday," a compilation of Vanderbilt mentions in the media, three times per week. Read a selection of Vanderbilt news stories for the week of May 7.
The Washington Post: Human rights lawyer Amal Clooney tells grads to have courage

Amal Clooney urged young students at Vanderbilt University to have courage as part of her Senior Day address. ABC News, The Washington Post, USA Today, The Daily Mail, The Cut, The Tennessean, SF Gate, New York Post and the Associated Press, among others, published related coverage.
AP: Amid #MeToo, more colleges host women as graduation speakers

For the first time in at least two decades, the majority of the nation's top colleges are featuring women as their spring commencement speakers. NBC News, Fort Worth Star-Telegram, Raleigh News & Observer, Christian Science Monitor, NewsOK and the Coeur d'Alene Press have shared this piece. Amal Clooney's appearance at Vanderbilt is mentioned, and Susan R. Wente, provost and vice chancellor for academic affairs, is quoted.
New York Times: Children of the opioid epidemic
In the midst of a national crisis, mothers addicted to drugs struggle to get off them—for their babies' sakes. Stephen Patrick, assistant professor of pediatrics and health policy, is quoted.
Rolling Stone: How do 'both sides' realistically talk about guns in 2018?

Jonathan Metzl, Frederick B. Rentschler II Professor of Sociology and Medicine, Health and Society, is quoted about opinions on gun control in the United States.
U.S. News: University autism study pairs theater with peer mentoring

A research study is using theater to improve the social skills of adolescents with autism spectrum disorder. Vanderbilt is participating in the study and Blythe Corbett, associate professor of psychiatry and behavioral sciences, developed the program. The Washington Times also published the piece.