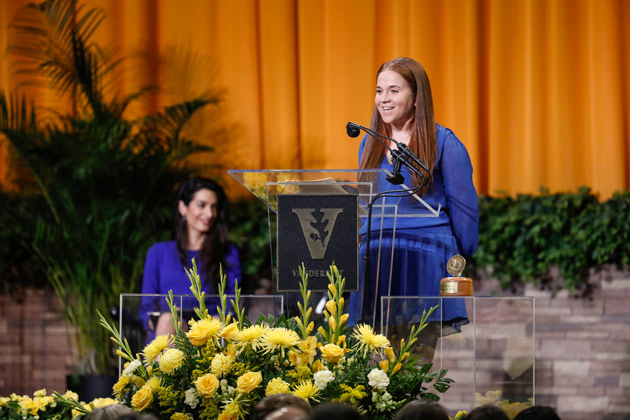 More than 1,360 members of the Class of 2018 participated in giving through the Senior Class Fund, setting a new record. By reaching 85 percent class participation, this year's seniors ranked among the highest in the nation for their peer group and were the first to secure a $100,000 challenge donation issued by Vanderbilt Board of Trust member and student philanthropy advocate Alex Taylor, BS'97.
Senior Class Fund chair Claire Fogarty presented the Class of 2018's donation to Chancellor Nicholas S. Zeppos as part of Senior Day activities May 10 in Memorial Gym.
"I offer my deepest gratitude to Claire and to all of the Senior Class Fund officers for inspiring their fellow students to give back to Vanderbilt," Zeppos said. "Your philanthropic spirit provides a tangible confirmation of the value that you place on your Vanderbilt experience. With this gift, the great Class of 2018 leaves an enduring imprint that strengthens our beloved university for the generations of students that follow in your footsteps."
The Senior Class Fund is one of Vanderbilt's storied traditions, a student-led effort providing members of the senior class with a unique opportunity to give back to the university. Seniors can designate their gift to one of hundreds of campus departments and organizations, allowing them to personalize the philanthropic experience and make an impact on areas of campus that mean the most to them. Gifts from the Class of 2018 benefited 238 Vanderbilt clubs, organizations and programs, with the greatest percentage of giving directed to Experience Vanderbilt.
"I made my Senior Class Fund gift to Experience Vanderbilt, a new program that provides need-based grants to students so they can participate in organizations or extracurricular activities they may not otherwise be able to afford," said Tobi Shitta-Bey, a neuroscience and medicine, health and society major who served as this year's Senior Class Fund underclassmen volunteer coordinator. "I think it's so important that everybody has the opportunity to be involved in what they love at Vandy without cost being a hindrance. My time at Vanderbilt has been defined not only by my academics, but also by extracurricular organizations."
To learn about current Senior Class Fund efforts, visit vanderbilt.edu/seniorclassfund.
Additional reporting by Brittney Mmutle