MyVU has profiled 14 members of the Class of 2018. We're featuring their stories in the lead up to Commencement on May 11.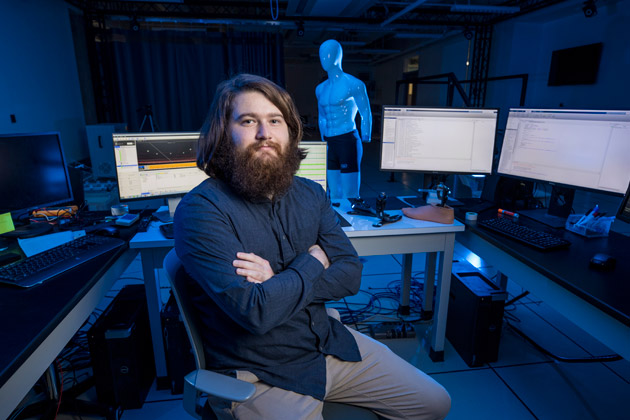 As a high school student in Bradenton, Florida, Josh Fleck knew he wanted to research and develop robotic prosthetic devices. At the time, however, he had no concept of what that research looked like.
He's more than resolved the mystery. Fleck, a mechanical engineering major, has spent the past three years in Vanderbilt Assistant Professor Karl Zelik's Biomechanics and Assistive Technology Lab immersing himself in research.
For one project, done in conjunction with Vanderbilt Stallworth Rehabilitation Hospital, Fleck focused on using accelerometry tracking to assess the gaits of people with and without disabilities. In 2016 he attended the Amputee Coalition National Conference, where he gathered data on several dozen amputees, then developed a quantitative tool for testing prosthetic devices and monitoring patient walking performance. That work contributed to his nomination and selection as a 2017 Goldwater Scholar, a prestigious award given to 240 math, science and engineering students nationwide each year.
"There's a big gap in opportunities available for people with disabilities," said Fleck, who is striving to combat those disparities with his research.
Another project involves a prosthetic that replicates the function of certain leg muscles in lower-limb amputees. Fleck was part of a senior design team that developed a three-fingered robotic hand to mount on a commercially available robotic arm and further automate part picking on a production line at Nissan USA, the project sponsor. He also contributed to a high-profile project out of the lab: a thin, wearable exosuit—dubbed "smart underwear"—for reducing back strain. Fleck, a computer science minor, worked on the wireless control and coding for the device.
At Vanderbilt, engineering undergraduates routinely are part of larger research teams and manage their own piece of a project with autonomy. "It's not like you're just tagging along," said Fleck, who credits Vanderbilt with making the engineering discipline "super-accessible" to students. Fleck plans to pursue a Ph.D. in prosthetics and assistive robotics after graduation.
Attending Vanderbilt was more about happenstance than design. The university was the only place Fleck applied, largely because a high school classmate often talked about how great the place is.
Even then, Fleck said: "It has exceeded my expectations."
Written by Pam Coyle