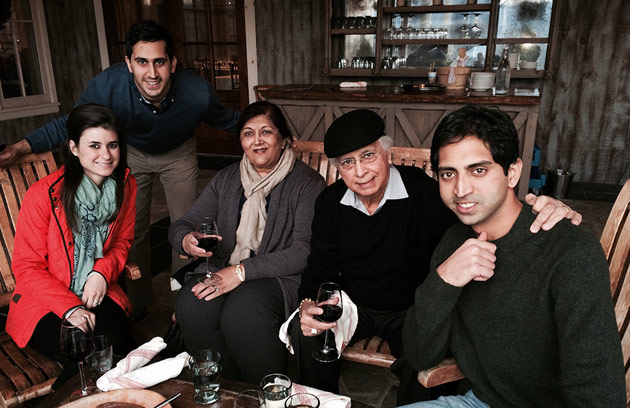 Two new scholarships at Vanderbilt University—one at Vanderbilt Law School, the other at the School of Medicine—have been named in honor of alumnus Rick Ferrini, JD'11. Divya and Vino Ferrini of Dallas have pledged $1 million to establish both the Rick V. N. Ferrini Law Scholarship and Rick V. N. Ferrini Medical Scholarship in memory of their oldest son, an accomplished attorney who died March 10, 2017.
"We wanted to do something in memory of Rick that would honor him and make him proud," said Vino Ferrini, president of the Texas-based leather footwear company Ferrini USA. "His time at Vanderbilt was very special to him, and these scholarships will give that same opportunity and experience to others. We also want to support research on depression, which so many struggle with, as did our son. It is a disease like any other, and we want to see the stigma removed for those who suffer with it and their families."
A graduate of the University of Colorado at Boulder, Rick Ferrini began his legal career in Washington, D.C., after earning his law degree from Vanderbilt in 2011. For the next five years he served as an assistant attorney general in the Office of the Attorney General for the District of Columbia, where he defended D.C. government agencies and individual employees at all levels of government in a variety of civil lawsuits. In 2016, he returned to his hometown of Dallas to serve as counsel to his family's company, Ferrini USA.
The Rick V. N. Ferrini Law Scholarship was created in appreciation of the far-reaching impact that Vanderbilt Law School had on Ferrini and his career. The need-based scholarship will be awarded to entering first-year law students and provide financial support throughout their time at the school.
"We're very thankful for this gift from Rick's family," said Chris Guthrie, dean and John Wade–Kent Syverud Professor of Law. "We are proud to have had Rick as a student at the law school, and we are so grateful to his parents and brother for honoring him in this way. In the face of the indescribable grief that accompanies the loss of a child, they have done something here that will honor his memory and make a big difference in the lives of many future law students."
The Rick V. N. Ferrini Medical Scholarship meanwhile will provide need- or merit-based support for M.D. or M.D./Ph.D. students at Vanderbilt's School of Medicine. Particular preference will be given to need-based students with an interest in the behavioral neurosciences.
"I want to express my appreciation to the Ferrini family for this generous and thoughtful gift in Mr. Ferrini's honor," said Dr. Jeffrey Balser, MD'90, PhD'90, president and CEO of Vanderbilt University Medical Center and dean of the School of Medicine. "Philanthropic support for scholarships is essential to our mission and has a lasting effect, affording deserving individuals who are passionate about helping others through careers in medicine and science to fulfill their dreams."
To contribute to either of the Ferrini scholarship funds, please contact Scotty Mann, associate dean for development and alumni relations at Vanderbilt Law School, at (615) 343-4534, or Steven Barnes, associate dean for development at the School of Medicine, at (615) 343-4474.