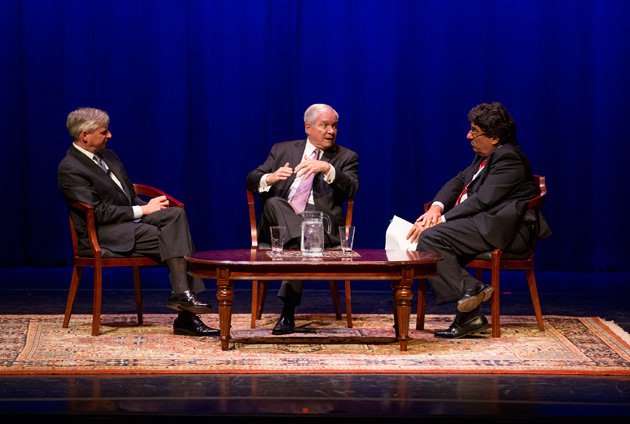 Former Secretary of Defense Robert Gates demonstrated his encyclopedic knowledge both of presidents since Lyndon B. Johnson and of U.S. relations around the world, sharing his views with Vanderbilt Chancellor Nicholas S. Zeppos and a crowd at Langford Auditorium April 24.
Vanderbilt Distinguished Visiting Professor and Pulitzer Prize-winning author Jon Meacham also took the stage for this last presentation in the academic year's Chancellor's Lecture Series.
Gates joined the Central Intelligence Agency in 1966 and spent nearly 27 years as an intelligence professional. He became president of Texas A&M University in 2002 and left to serve two presidents as secretary of defense from 2006 to 2011.
The conversation began with a question about the military's impression of President Donald Trump, who Gates publicly criticized before the 2016 election. Gates said Trump's unpredictability is concerning to some in the military, but to his credit, the president has been able to get concessions from China, motivate allies to increase their military contributions, and bring North Korean leader Kim Jong Un to the negotiating table.
Zeppos asked Gates his impression on the dual role held by American presidents.
"Do you think there's a moment with each president you've worked for where you've looked for a shift from president to commander in chief? Is there a moment where you say, 'Let's see how they handle this as commander in chief?'" Zeppos asked.
Gates said all the presidents he's worked for ultimately shifted from a position of deference to the military to asking hard questions of its leadership.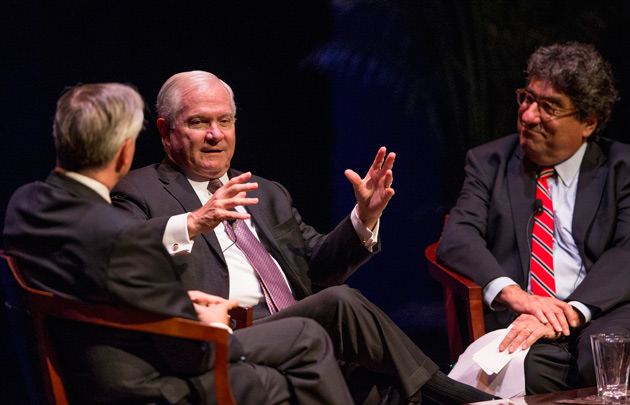 "What moved Trump the first time on Syria was seeing dead bodies. Once you start seeing that, it has a huge impact on you," he said. "George W. Bush would have had a far different presidency without 9/11.
"The only president I worked for who didn't push back against the military was Lyndon B. Johnson. Johnson was terrified of being the president who lost Vietnam."
Asked about Russia, Gates said he was unconcerned by President Vladimir Putin's posturing, calling him a "spoiler" more than a threat because of Russia's diminished size and economy.
The evening ended with a question submitted by a veteran in the audience: Has Gates ever wondered whether recent wars in Afghanistan and Iraq were worth it?
Gates said he was most concerned about American forces becoming overly ambitious about what could be accomplished there. "It wasn't whether I thought it was worth it, it was whether we'd not just allowed mission creep, but growth to where we had unrealistic ambitions," he said.
The crowd saw Gates off with a standing ovation.