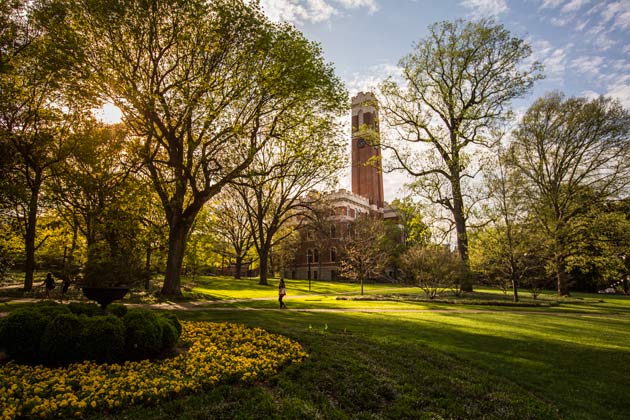 The Vanderbilt Board of Trust has approved four trailblazers to join the board for five-year terms—one of the nation's top hedge fund managers, the first Posse student to earn a law degree, the CEO of American Airlines and the first woman to lead a U.S. Navy ship fleet.
Alumni Andrew Hoine, Kito K. Huggins, W. Douglas Parker Jr. and Nora Wingfield Tyson were elected to the seats during the board's spring meeting. The board also named Perry Brandt as Alumni Trustee and Aditya "Ditty" Karhade as Young Alumni Leader, both to serve two-year terms. Mark P. Mays, David W. Patterson and Robert C. Schiff Jr. were approved for their second five-year terms.
In other action, Adolpho A. Birch III was appointed as board secretary, taking over the role from Shirley Collado, who finishes her three-year term on June 30, 2018.
Additionally, Kenya Wright was elected as the board's Young Alumni Leader for a two-year term to begin July 1, 2021, following a three-year term on the board of the Vanderbilt Alumni Association.
The above terms all begin on July 1, 2018.
Hoine, of New York City, is a managing director, a senior vice president and the director of research at Paulson and Company, a private hedge fund sponsor with approximately $20 billion in assets under management. He sits on the College of Arts and Science Board of Visitors, and with his wife, Jennifer, has been a strong supporter of Arts and Science. The couple has established the Jennifer and Andrew Hoine Scholarship in Arts and Science; supported the Department of Economics, including establishing the Andrew and Jennifer Hoine Chair in Economics as part of the Chancellor Chair Challenge; and made significant Reunion gifts. Hoine earned his bachelor's in economics at Vanderbilt in 1996.
Huggins, of New York City, is the first student in the College Posse Scholarship Program to earn a law degree. He is director of executive administration at Weil, Gotshal and Manges, spearheading the firm's global alumni program and career exploration and transition assistance for associates and alumni. He has also held roles with FutureWork Institute, Lehman Brothers, MetLife, and Shearman & Sterling. He clerked for U.W. Clemon, the now-retired chief justice of the U.S. District Court for the Northern District of Alabama. He is a frequent speaker for professional groups and at career fairs. During his years at Vanderbilt, Huggins was president of Vanderbilt Student Government. He is a member of the chancellor's 'Dores of Distinction and is an active supporter in numerous alumni activities, including Reunion. A Double 'Dore, he earned a bachelor's in secondary education in 1996 and a law degree in 1999.
Parker, of Dallas, is chairman and chief executive officer of American Airlines Group, the largest airline in the world. Parker, the former CEO of US Airways Group, was instrumental in the 2013 merger between American and US Air. He led America West airline earlier in his career. At Vanderbilt, Parker sits on the Parents Leadership Committee and the Board of Visitors of the Owen Graduate School of Management. He received the 2017 Alumni Professional Achievement Award, the 2004 Owen Distinguished Alumnus Award, and was the 2013 Owen Commencement speaker. With his wife, Gwen, he supports need-based scholarships and the Owen School. Parker earned his MBA at Vanderbilt in 1986, and he and his wife are parents to Jackson Parker, who graduated in 2017 with a bachelor's in political science.
Tyson, of Williamsburg, Virginia, is a retired Navy vice admiral. In a military career that spanned four decades, she became the first woman to lead a U.S. Navy ship fleet when she took command of the Third Fleet in 2015. She was also the first woman commander of the U.S. Navy's Carrier Strike Group Two, leading about 80 combat aircraft and 13 ships, including her flagship, the USS George H.W. Bush, a Nimitz-class nuclear supercarrier. She also led the Navy's disaster relief efforts after Hurricane Katrina. At Vanderbilt, she was honored with the Distinguished Alumni Award in 2012 and will officiate Vanderbilt's ROTC officer commissioning ceremony in May 2018. She is a supporter of Vanderbilt athletics, the College of Arts and Science and the Wild Bunch Acquisitions Fund. She earned a bachelor's in English at Vanderbilt in 1979.
Brandt, of Kansas City, Missouri, is managing partner of Bryan Cave in that city, leading initiatives focused on strategic growth, marketing, diversity and professional development. An experienced trial litigator, Brandt counsels boards of directors, management teams and legal departments on litigation, business and regulatory matters, and risk avoidance. Brandt has served as president of the Vanderbilt University Alumni Association since 2016. An active alumnus, he led the Kansas City Alumni Chapter and served on the Law Alumni Board and the fundraising and attendance committees for his 35th reunion in 2009. He and his wife, Liz, frequently host the Kansas City Summer Send-off parties and support the National Commodore Club and the law school. Brandt earned a bachelor's in political science at Vanderbilt in 1974, followed by his law degree in 1977. He and his wife are the parents of Vanderbilt alumna Elizabeth "Betsy" Brandt, BA'13.
Karhade, of Roxbury Crossing, Massachusetts, is currently pursuing a medical degree from Harvard Medical School and an MBA from Harvard Business School. As an undergraduate student, he was a research assistant in labs at Vanderbilt University and Vanderbilt University Medical Center, the Mayo Clinic and the University of Leipzig, Germany. He also participated in the Multicultural Leadership Council, Vanderbilt Student Volunteers for Science, Alternative Spring Break and Vanderbilt Engineering World Health. Karhade founded BhangraDores, a South Asian dance troupe for students that specializes in Bhangra, a form of Indian music and dance from the 11th century that competes nationally. Karhade was elected as Vanderbilt's first Young Alumni Leader in April 2015. He is a CoRPs volunteer, a GOLD class agent, a Senior Class Fund volunteer and a Giving Day ambassador. He earned his bachelor's in biomedical engineering in 2015.
Wright, of Brooklyn, New York, is a senior majoring in medicine, health and society and human and organizational development with a minor in corporate strategy. She holds the full-tuition Posse Foundation Leadership Scholarship. At Vanderbilt she has served as president of VUcept and as a head resident after being a resident adviser. She also trains new staff at the Vanderbilt Recreation and Wellness Center. She has held summer internships at the University of Pennsylvania Center for Mental Health and Services Research, the Philadelphia VA Medical Center and the University of Michigan Medical Center.