Media Inquiries
Latest Stories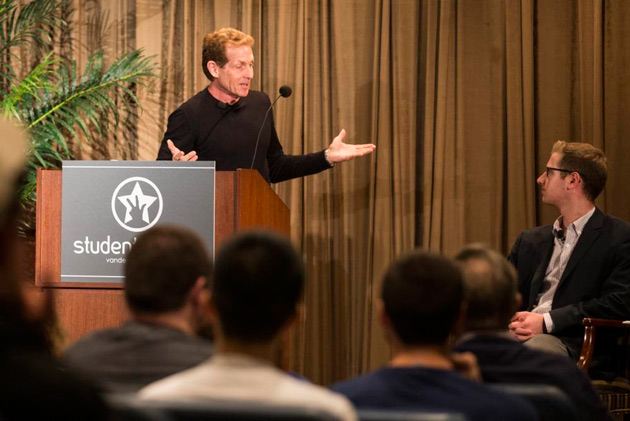 Skip Bayless, a noted sports journalist, television personality and Grantland Rice Scholarship recipient, credits a high school English teacher and his Vanderbilt experience for launching his career path.
Bayless, who graduated cum laude from the College of Arts and Science in 1974, spoke to Vanderbilt student media and alumni during a wide-ranging Q&A at the John Seigenthaler Center April 20. He recalled how an Oklahoma City high school English teachers insisted that he write sports columns for the school paper. She also helped him apply for Vanderbilt's Grantland Rice Scholarship, which was established for students interested in sports journalism.
"I'll never forget my senior year coming home one night and my mother had scribbled a phone number with a 615 area code for me to call," Bayless said. "I knew that my life was about to change. I found my voice and my confidence at Vanderbilt. I even found a healthy dose of arrogance here, and that's not all bad. I began to think nationally, instead of locally, because of Vanderbilt. The university took my heart and became a part of me."
Bayless majored in English and history and served as sports editor for the Vanderbilt Hustler. He noted that he and his roommates in Carmichael Towers would "share and spar" about Southeastern Conference sports night after night. That proved to be good training for his future career as a sports commentator and debater on national television.
Bayless developed a national reputation as a sports writer for the Miami Herald and Los Angeles Times. He wrote three books chronicling different eras of the Dallas Cowboys. He also became a prominent sports columnist in Dallas and Chicago before being hired full time as a commentator for ESPN for programs that included SportsCenter and Cold Pizza, later rebranded as First Take.
In 2016, Bayless left ESPN for Fox Sports 1, where he hosts the weekday sports debate/opinion show Skip and Shannon: Undisputed with Shannon Sharpe, a former NFL football player and three-time Super Bowl champion.
Among the students' questions for Bayless was whether he ever makes statements on the air that are intentionally provocative to generate a reaction. Does he genuinely mean everything he says?
"Never ever have I gone on television and thought, 'Gee, if I say this … '" Bayless responded. "I say what I see. This isn't pro wrestling. This isn't staged or contrived. The whole concept of saying something just to say it is so offensive to me."
Bayless was also asked why he doesn't follow people on Twitter, where he has 2.9 million followers. "I like to say on television that I'm a leader, not a follower, but the truth is that I don't want to know what anyone else thinks about anything," he said. "Looking down a Twitter feed will only ruin my psyche and my thought process. You can't let Twitter define you."
Bayless was inducted into the inaugural class of the Vanderbilt Student Media Hall of Fame in 2009. While on campus, he presented the first Skip Bayless Award for Excellence in Sports Journalism to Cutler Klein, sports editor of the Vanderbilt Hustler, sports director of VandyRadio, and host and producer for VTV. The award will be given annually.