Media Inquiries
Latest Stories
MyVU has profiled 14 members of the Class of 2018. We're featuring their stories in the lead up to Commencement on May 11.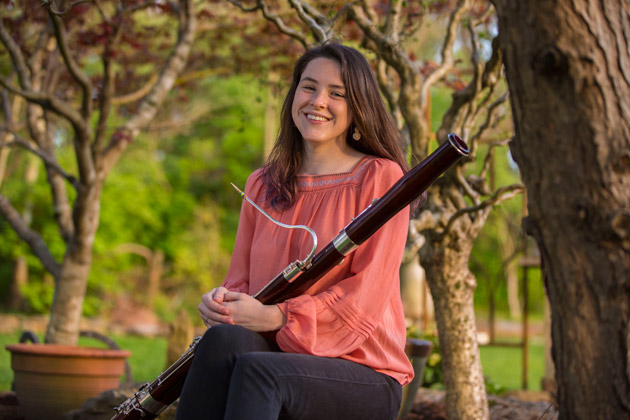 "Adventurous" is the word that best describes Sarah Robinson. The Atlanta native and Blair School of Music student is unafraid of doing things she has never tried before and open to new cultural experiences. "My parents tell people I'm a free spirit," she said.
Robinson always knew that playing bassoon professionally was not what she ultimately wanted to do. After finding an ill fit with economics as a second major, she discovered that ethnomusicology could combine her love of languages and culture with music. A summer with Pakistani roommates led her to the religious musical performance traditions of Sufism, which became the focus of research for her undergraduate thesis. Robinson got her first taste of musical fieldwork doing service work with women in Morocco through Vanderbilt's Office of Active Citizenship and Service as a Nichols Humanitarian Fund grant recipient.
"I taught [English]," Robinson said, "but had some free time, so I wanted to pursue my interest in Sufism while I was there."
Having trouble making contacts in Rabat, she emailed an ethnomusicology professor at Columbia University, who helped set up an interview with the Moroccan minister of justice. "It was amazing," Robinson said. "I learned so much from that interview."
Because of her interest in South Asian music, Robinson began studying Hindi-Urdu at Vanderbilt and is now the recipient of a Critical Language Scholarship to study Urdu this summer in Lucknow, Northern India, through the U.S. Department of State. She will return to Lucknow in fall 2018 on a fellowship at the American Institute of Indian Studies. Robinson likens her facility with languages to the discipline of practicing an instrument.
"You have to do it every day, and you have to have the ear for it, to hear subtle differences in sound," she said. "It's the same with languages."
Robinson earned certification at Vanderbilt School of Nursing as a doula—a woman who assists and supports other women through childbirth—and hopes to combine her language and ethnomusicology work with service while in India. She also hopes to learn to play the shehnai, a quadruple-reed wind instrument, somewhat akin to the bassoon.
"In order to be a good ethnomusicologist, I would like to learn an instrument in the area I'm studying," she said. "But I want my focus to be on Qawwali, a traditional kind of spiritual music performance in the Sufi tradition of South Asia."
Robinson sees her studies as a door to helping others understand different cultures. "It can open up people's perspectives on a lot of the world, especially to understanding Muslim communities," she said. "If we could have constructive critical conversations, that would be something."