Media Inquiries
Latest Stories
MyVU has profiled 14 members of the Class of 2018. We're featuring their stories in the lead up to Commencement on May 11.
As Jalen Dansby approaches Commencement, he has acceptance letters from 10 of the country's top medical schools, including Yale and Vanderbilt. He's motivated to become a doctor not just for himself, but also for his community.
"It's really about more than just me," said Dansby, a medicine, health and society major from Houston, Texas. "It's about what I represent as a black male. I'm representing other people who may not have a voice or who may be unfairly labeled."
Last fall, he participated in "The Growing Absence of Black Men in Medicine and Science: An American Crisis," a Washington, D.C., workshop sponsored by The National Academies of Sciences, Engineering and Medicine and the Cobb Institute of the National Medical Association. The program explored the decline of black men entering medical fields.
Representation is important to Dansby, and it has inspired him to take on leadership roles as president of the Minority Association of Pre-Medical Students and through Vanderbilt Student Volunteers for Science. "Through VSVS, we teach science lessons to students around the Nashville area who have been underserved and might not know much about college," he said.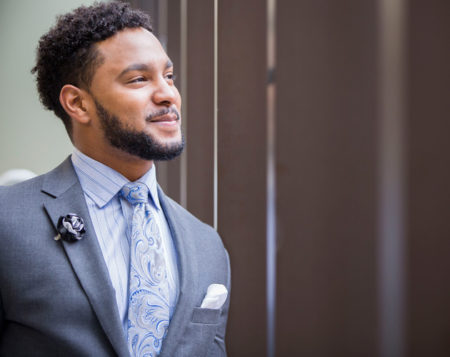 A Chancellor's Scholar, Dansby has juggled an aggressive pre-med course load, multiple research internships and a campus job, and he even played on the Commodore football team as a freshman. He said all of these experiences have made him a better leader and collaborator.
"One thing I've learned from football and from life at Vanderbilt is that everything really is a team effort," he said.
The youngest of five high-achieving siblings, Dansby said his ultimate inspiration is his family.
"It starts with my mother, who's been a nurse practitioner in the Veterans Affairs hospital system for 25-plus years and is still working," he said. "I really want to set an example for others, just like my siblings and my parents have for me."
As Dansby takes the next step in his journey to becoming a doctor, he's expressing sincere gratitude for the road he's traveled thus far.
"It goes back to being thankful for Vanderbilt, thankful for my mentors, thankful for the people who supported me, and thankful for everything that came together to put me in this position," he said, "because I couldn't have done it alone."