VUToday: Faculty Guggenheim fellows, exercise research, and Paul Ryan in weekly roundup of news
Apr. 20, 2018, 2:13 PM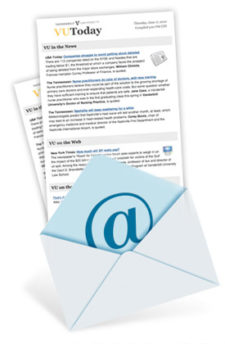 The Vanderbilt University Division of Communications publishes "VUToday," a compilation of Vanderbilt mentions in the media, three times per week. Read a selection of Vanderbilt news stories for the week of April 16.
The Chronicle of Higher Education: Appointments, resignations, retirements, Guggenheim fellows, deaths
Joel Harrington, Centennial Professor of History, Edward Wright-Rios, professor of history, and Antonis Rokas, Cornelius Vanderbilt Professor of Biological Studies, are listed among the 115 John Simon Guggenheim Memorial Foundation fellows for 2018.
The New York Times: Why exercise alone may not be the key to weight loss
Vanderbilt research suggests working out may lead to changes in other lifestyle choices that can cause a lack of weight loss. Daniel Lark, a research fellow in molecular physiology, is quoted. Business Standard also published the piece.
The Washington Post: How Paul Ryan lost the Republican Party
Larry Bartels, May Werthan Shayne Professor of Public Policy and Social Science, writes about Paul Ryan's announced retirement and what it suggests about the Republican Party. Bartels' research is also highlighted in The Economist, an op-ed for The New York Times and The Huffington Global.
The Chronicle of Philanthropy: Gifts roundup: Big donations go to nonprofits that fight crime and resolve conflicts
Bruce and Bridgitt Evans' $20 million pledge to support Vanderbilt's undergraduate programs and endow the dean's post in the School of Engineering is mentioned in the roundup.
The New York Times (Opinion): Barbara Bush, a first lady without apologies
Jon Meacham, Distinguished Visiting Professor of Political Science, writes to commemorate the former first lady who died Tuesday.