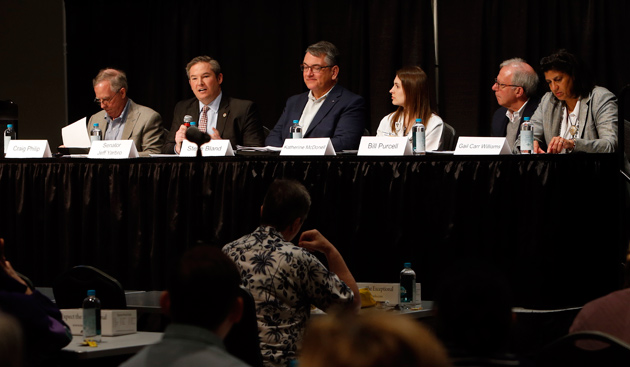 More than 100 students, faculty, staff and community members attended the final transit forum hosted by Vanderbilt University this semester.
The April 17 event, held in the Student Life Center ballrooms, featured a panel of policymakers and others involved with transit planning at a local level. Each provided their perspective on the transit plan referendum to be voted on by Davidson County residents May 1. Panelists included:
Craig Philip (facilitator), research professor, Vanderbilt University Department of Civil and Environmental Engineering; director, VECTOR
Gail Carr Williams, MTA board chair; associate director, Vanderbilt University Department of Community, Neighborhood and Government Relations
Sen. Jeff Yarbro, District 21, Tennessee State Senate
Bill Purcell, former Metropolitan Nashville mayor; co-chair of the Transit and Affordability Taskforce
Steve Bland, CEO, Nashville MTA
Katherine McDonell, assistant professor of neurology, Vanderbilt School of Medicine
The event, titled "The Nashville Transit Plan: Decision Time" was hosted by Vanderbilt's Office of Community, Neighborhood and Government Relations in the Division of Public Affairs and the Vanderbilt Center for Transportation and Operational Resiliency (VECTOR).