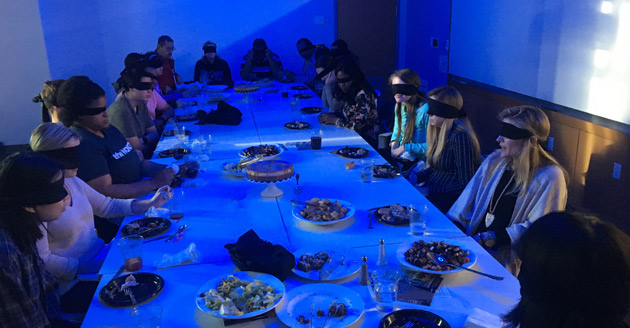 The Wond'ry recently hosted its first Dinner in the Dark, an event inspired by student ambassador and Vanderbilt Next Steps participant Darko Osman.
Vanderbilt students, faculty and staff gathered for the unique dinner experience designed to challenge participants' perceptions, build empathy and break down social barriers. As guests arrived, Osman and Next Steps ambassador and Patricia and Rodes Hart Scholar Chelsea Janda gave a warm welcome and an introduction to the Next Steps program, a four-year, inclusive post-secondary education program for students with intellectual disabilities. They also shared highlights from Osman's internship this semester at the Wond'ry.
At the conclusion of the introduction, guests were instructed to put on a blindfold, and the lights in the room were switched off.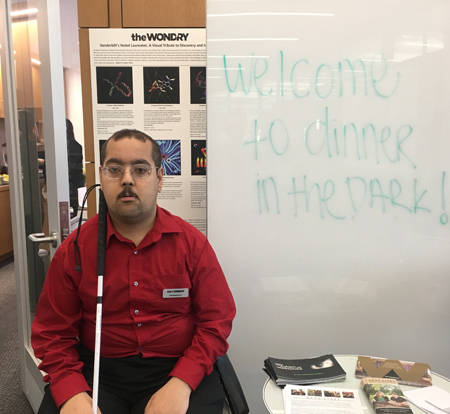 Over the next hour, guests were served a family-style, three-course meal and experienced what it is like to navigate this everyday activity without sight, from knowing what ingredients are in a dish to estimating how much food is left on your plate to avoid "air fork."
They also had to determine how to engage in conversation without being able to read body language and other social cues.
"Trying to eat a meal in the dark was an incredibly humbling experience that gave me a new perspective on the daily difficulties faced by the visually impaired," said Jay Cavenaugh, a Vanderbilt senior majoring in industrial design and engineering management.
Jacob Pierce, a junior majoring in policy studies, said he is usually a picky eater, but without being able to see the dishes, he tried and liked foods that he typically wouldn't attempt. Sarah Anne McKenzie, a sophomore pre-law student, said it was very freeing to talk with others without the preconceived notions that come when you can see someone.
Osman shared his experiences and the strategies he has developed that help him navigate campus life, as well as steps people can take to assist him and others with vision impairment. He suggested announcing when you leave the room and making it clear that you are speaking to him, especially in environments where there is background music or when other conversations are going on nearby.
Experiences like this are at the heart of the Wond'ry's mission to bring the Vanderbilt community together and foster a spirit of collaboration and empathy that drives new and innovative solutions that ultimately change the way we live.
Story by Deanna Meador, the Wond'ry assistant director