Media Inquiries
Latest Stories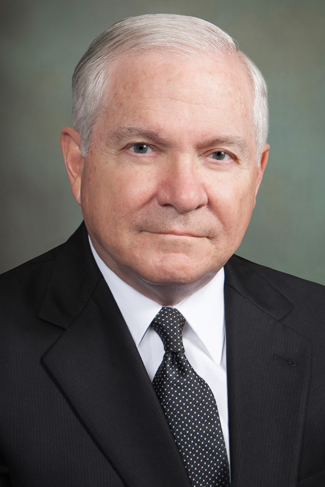 Vanderbilt Chancellor Nicholas S. Zeppos will host a discussion on Tuesday, April 24, featuring former U.S. Secretary of Defense Robert M. Gates and Vanderbilt Distinguished Visiting Professor and Pulitzer Prize-winning author Jon Meacham.
The panel, scheduled to begin at 6:30 p.m. in Langford Auditorium on the Vanderbilt campus, is titled "A Passion for Leadership: Reflecting on 50 Years of Public Service." Prior to the event, audience members may submit questions at a table in the lobby to be asked by Zeppos during the last 15 minutes of the lecture. The discussion is the final Chancellor's Lecture Series event for 2017-18.
Admission to the lecture is free, and seating will be available on a first-come, first-seated basis. Tickets will not be issued for this event.
Gates served as secretary of defense from December 2006 to July 2011 under Presidents George W. Bush and Barack Obama, making him the only secretary of defense in U.S. history to be asked to remain in that office by a newly elected president. Obama was the eighth president Gates served. Before becoming the secretary of defense, Gates was president of Texas A&M University, assuming the role in August 2002.
Gates joined the Central Intelligence Agency in 1966 and spent nearly 27 years as an intelligence professional. During that period, he spent nearly nine years at the National Security Council, serving four presidents of both political parties. Gates was director of Central Intelligence from 1991 to 1993. He is the only career officer in CIA history to rise from entry-level employee to director.
Gates has been awarded the National Security Medal, the Presidential Citizens Medal, has twice received the National Intelligence Distinguished Service Medal, and has three times received the CIA's highest award, the Distinguished Intelligence Medal.
He is the author of From the Shadows: The Ultimate Insider's Story of Five Presidents and How They Won the Cold War (1996); Duty: Memoirs of a Secretary at War (2014); and A Passion for Leadership: Lessons on Change and Reform from Fifty Years of Public Service (2016).
Parking for the April 24 Chancellor's Lecture will be available in the 25th Avenue Garage, located near the intersection of 25th and Highland avenues. Please use the Highland Avenue entrance.
The Vanderbilt Chancellor's Lecture Series strives to connect the university and the Nashville community with intellectuals who are shaping our world. For more information about the series, visit the Chancellor's Lecture Series website, email cls@vanderbilt.edu, or follow @Nick_Zeppos on Twitter.