The Tennessee General Assembly unanimously passed a joint resolution honoring the memory of Vanderbilt alumnus Perry Wallace on April 11. Wallace, who grew up in North Nashville, integrated Vanderbilt varsity basketball in 1966 and made history on Dec. 2, 1967, as the first African American basketball player to compete in a varsity game in the Southeastern Conference.
House Speaker Beth Harwell sponsored the bill with co-sponsors Representatives Harold Love Jr. , John Ray Clemmons, Brenda Gilmore, Bo Mitchell, Bill Beck, Mike Stewart, Jason Powell, Sherry Jones and Darren Jernigan.
David Williams, Vanderbilt vice chancellor for athletics and university affairs and athletics director, and Andrew Maraniss, Vanderbilt alumnus and author of the New York Times best-selling book about Wallace, Strong Inside, joined Rep. Love and Sen. Steven Dickerson to present the resolution Wednesday morning at the State Capitol.
The resolution that in part reads, "Be it resolved by the House of Representatives of the one hundred tenth General Assembly of the State of Tennessee, the Senate concurring, that we honor the memory of Perry Wallace, reflecting fondly upon his inner strength and courage while integrating the SEC as a Vanderbilt basketball player, his distinguished career as an attorney and educator, and his enduring legacy as a civil rights icon," is among a number of ways Wallace has been remembered in recent months.
In December Vanderbilt and the SEC marked the 50th anniversary of Wallace's historic 1967 basketball game and honored his legacy and that of his teammate and friend Godfrey Dillard, who also broke Vanderbilt basketball's color barrier in 1966.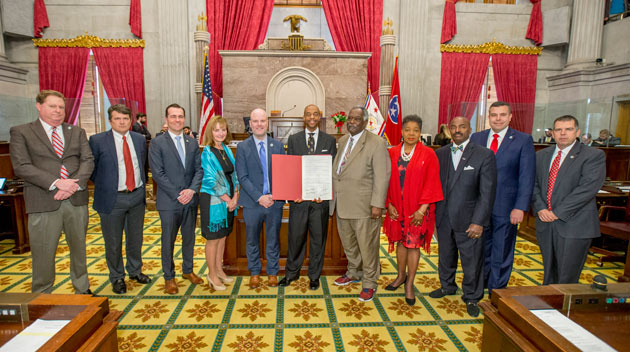 Wallace, who died Dec. 1 following a battle with cancer, was honored posthumously by the SEC with the Michael L. Slive Distinguished Service Award on Dec. 2 along with Dillard and the four University of Kentucky players who integrated SEC football: Nate Northington, Wilbur Hackett, Houston Hogg and the late Greg Page.
On Dec. 4, Vanderbilt hosted the premiere of the documentary film Triumph: The Untold Story of Perry Wallace. Vanderbilt provided financial support for the film, which was three years in the making, directed by Rich Gentile and narrated by Academy Award winner Forest Whitaker. The film recently finished a limited run in theaters in New York and Los Angeles.
In January, the Vanderbilt University Alumni Association recognized Wallace as its 2017 Distinguished Alumni recipient, the highest honor bestowed to a member of the university's alumni community. Vanderbilt also honored him at an event in his adopted hometown of Washington, D.C., where he had worked in the Justice Department, served on the Environmental Policy Advisory Council of the EPA, and was a professor at Howard and American universities.
A new scholarship, the Perry E. Wallace Jr. Basketball Scholarship, announced in February, will continue to further cement his legacy at Vanderbilt by providing support for members of the men's and women's varsity basketball teams.