Resolved: Social media enhances democracy. That was the topic for a spirited exhibition debate between Irish college champion debaters and Vanderbilt debaters at the First Amendment Center March 28.
The Department of Communication Studies and Vanderbilt Debate served as one of this year's hosts for Ireland's top college debaters, who are touring the United States this spring after winning the 58th Irish Times Final.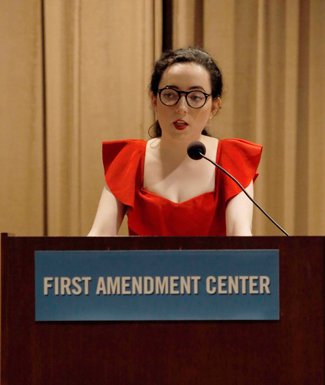 Amy Cream, Cian Leahy and Aodhan Peelo—three top debaters from the University College Dublin—offered a variety of arguments in support of social media helping democracy, including how the various platforms bring more voices into the political sphere.
Kaylee Kohlmaier, William Newell and Erich Remiker—three Vanderbilt debaters who are all enrolled in the College of Arts and Science—presented their counterarguments during the 75-minute debate.
Cream, who was named Best Individual Speaker during the Irish Times competition, delivered the opening arguments. "We need to look at the methods of engaging people who are affected by various issues and enable to take action on those issues," she said. "That is what social media does. That is what the debate is about today. We're hearing that somehow the loudest voices are always at the front in social media. Well, the voices are there this time from other people. Maybe they're not as loud, but the voices finally have a platform."
Leahy, who is preparing to practice medicine, and Peelo, who is studying law and philosophy, also spoke on reasons why social media is good for democracy.
On the other side, Remiker, a Vanderbilt sophomore who is majoring in economics, noted that social media is not like traditional media. "When they talk about how there were always these polarized newspapers, that is true," he said. "But you could always see all of them—hawking their views to you one at a time. And you would always have the ability to decide which one you wanted, whether it was a radical union magazine or The New York Times. What's different about social media is that you are only being shown very specific ones."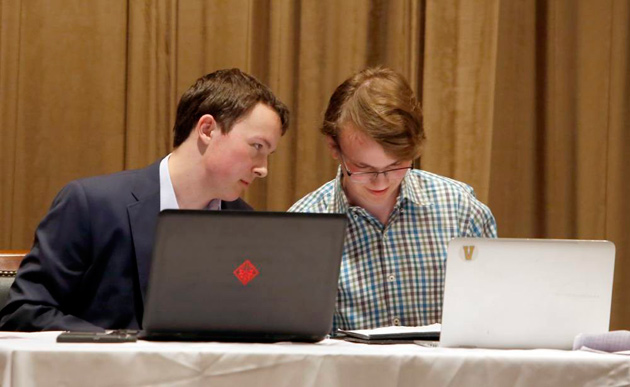 Also making the argument that social media undermines democracy were Newell, a sophomore who is majoring in economics and public policy, and Kohlmaier, a senior who is majoring in political science and economics.
During an interview prior to the debate, Kohlmaier, a 2018 National Debate Scholar, reflected on her four years of debate on campus. "I really enjoy being able to research new areas that I had not looked at previously," she said. "Each year we are given a new topic that sounds relatively small but ends up being rather significant. For example, I've learned that health policy affects not only the economy but other areas such as foreign relations. The decisions of policymakers can have a huge influence on areas that we did not anticipate."
As the exhibition debate concluded, M.L. Sandoz, director of forensics at Vanderbilt, complimented both teams for their excellent preparation and thoughtful arguments. The tour of the Irish top college debaters is sponsored by Pax Rhetorica: Words Across Borders, a nonprofit dedicated to global dialogue.